Chinese general meets Japanese counterpart
By Zhao Lei in Singapore | China Daily | Updated: 2017-06-05 07:38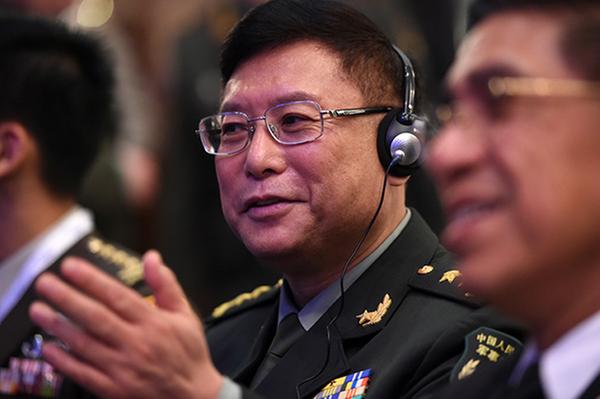 Lieutenant General He Lei, vice-president of the PLA Academy of Military Science and head of the PLA delegation, attends the Shangri-La Dialogue in Singapore, which ended on Sunday. Joseph Nair/ap
Two senior Chinese and Japanese military officials met in Singapore on Sunday, People's Liberation Army's delegation to the Shangri-La Dialogue said in a news release.
Lieutenant General He Lei, vice-president of the PLA Academy of Military Science and head of the PLA delegation, met on Sunday morning with Lieutenant General Kazuaki Sumida, vice-chief of staff of the Japanese Self-Defense Forces' Joint Staff, at the Shangri-La Hotel on the sidelines of the regional security conference that concluded later in the day.
He told Sumida that Sino-Japanese relations appeared to be improving, but they are still sophisticated and fragile. China always holds a positive attitude toward communication and exchange with Japan in defense affairs and that the two sides should make efforts to improve their defense relations, He said according to the news release.
He said China attaches great importance to the negotiation of an air-sea communication mechanism between the two countries' defense departments and has made a lot of effort on this matter. China hopes that Japan will consider this issue in a strategic perspective and use flexibility to handle it, the Chinese officer said.
Sumida said more communication and exchanges between the two nations' defense departments would contribute to stable relations, which are crucial to security in the Asia-Pacific.
Sumida was quoted by the Chinese news release as saying that the air-sea communication mechanism will be established through efforts from both sides. The Japanese officer also said Japan is willing to enhance bilateral exchanges and talks in defense, especially when the two countries mark the 45th anniversary of normalization of their diplomatic ties this year and as they mark next year the 40th anniversary of the signing of the Treaty of Peace and Friendship between Japan and China.
zhaolei@chinadaily.com.cn