Authorities detain 30 meth smuggling suspects
By Zheng Caixiong in Guangzhou | China Daily | Updated: 2017-06-15 07:35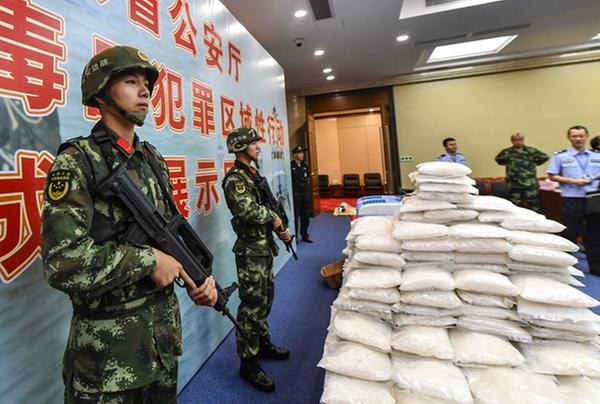 Stacks of drugs are displayed at the Guangdong Public Security Department on Wednesday. Guangdong police seized more than 640 kilograms of narcotics since April.CHEN JIMIN/CHINA NEWS SERVICE
Police and customs officers from Guangdong province have detained 30 suspects in three drug smuggling cases since April in cooperation with Indonesia and Malaysia.
More than 640 kilograms of narcotics, plus dozens of fishing boats and vehicles, were seized.
In addition to suspects from the Chinese mainland, seven detainees were from Africa, three were from Hong Kong, two were from Taiwan and one was from Malaysia.
China's drug enforcement and customs officers began investigating after receiving a report that a gang headed by a Hong Kong resident was planning to illegally export a large amount of methamphetamine.
In a joint operation by customs officers from Guangdong, Indonesia and Malaysia in April and May, 16 suspects were detained and 56 kg of meth was seized.
Authorities said the drugs were hidden in treadmills and cash registers that were to be shipped to a Southeast Asian country.
After they received information from their Chinese counterparts, Indonesian customs officers detained two more suspects, and Malaysian authorities captured another.
A drug smuggling gang and a transport channel led by African drug traffickers active in smuggling meth from the mainland to Southeast Asia were busted after the joint operation, the Chinese authorities said.
Deng Jianwei, director of drug enforcement at Guangdong's Public Security Department, said the operation dealt a heavy blow to marine drug smuggling in Guangdong waters. But he said fighting drugs and related crimes is still a tough long-term task in Guangdong, which has been the country's main battlefield against drug crimes for decades.
Deng promised to expand international cooperation in fighting drug smuggling, as criminals remain active.
"Guangdong has a coastline of 4,114 kilometers, with 109 ports, 41,000 registered fishing boats and 145,000 registered fishermen," Deng said at a news conference in Guangzhou on Wednesday.
Guangdong has made progress in fighting marine drug smuggling in cooperation with other Southeast Asian regions, and countries including Australia, New Zealand, the United States, Canada and the United Kingdom, Deng said.
Guangdong detained 273 suspects, including 119 from Hong Kong and 30 from Taiwan, and seized more than 5.75 tons of drugs during investigations into 135 marine drug smuggling cases, from January 2015 to April.
Lin Sen, executive deputy director of the public security bureau of Shanwei, Guangdong province, said police are offering rewards of 500,000 to 8 million yuan ($74,000 to $1.2 million) for tips to the police.
"Those who report clues that lead to the seizure of a ton of drugs will receive the highest reward," Lin said.