Documentary filmmaker shines a light on Africa
By Tian Xuefei and Zhou Huiying in Harbin | China Daily | Updated: 2017-06-21 07:28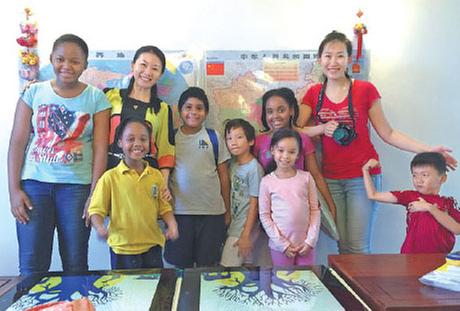 Bu Xian (second from right) poses with workers and children during an interview at an orphanage in Tanzania.Photos Provided To China Daily
Harbin native chronicles lives of compatriots living on continent
A five-episode documentary series entitled Bubu in Africa, which was made by a Chinese woman and aired recently on a TV station in Harbin, Heilongjiang province, has revealed the everyday lives of many ordinary Chinese people on the world's second-largest continent.
Bu Xian, 30, who obtained her master's degree from Columbia University's Graduate School of Journalism, gave up her job as the host of a well-known Chinese-language television channel in New York after two years to become a journalist for a Chinese-language newspaper in Tanzania in 2014.
"The television channel I worked for is broadcast across the entire United States, and I enjoyed working there," Bu said. "But I wanted to push my boundaries and test myself outside the US."
Soon after her arrival in Tanzania, Bu made friends with many Chinese, including people who worked at the Tanzania Chamber of Commerce, Industry and Agriculture, local vendors and those working on projects funded by China.
"I didn't realize how dangerous the place could be until I was told that a relative of the chamber of commerce's president was shot dead there. And I soon heard Chinese friends complaining about traffic congestion, unsanitary living conditions and the poor infrastructure network," Bu said. "I was mystified as to why people chose to stay if life was so hard."
The contrast between the US and Tanzania gave Bu the idea to document the life of Chinese living in Africa. During a short trip back to the US after three months in Tanzania, she told her professor at Columbia University about her documentary plans.
"He advised me not to focus solely on people's bad experiences, but to pay more attention to the daily life of the average Chinese person living in Africa," she said.
Bu took her professor's advice on board and returned to Tanzania.
After hearing the story of several different people from various walks of life, she chose a housewife to be the focus of her first mini documentary.
"In order to take care of her child and her family, she quit her job with a foreign company in China to become a housewife in Africa," Bu said. "During the process of teaching her child Chinese, she started a new business, teaching the language to others, which gave her a new direction in life.
"I really liked the story and tried my best to film and edit a compelling documentary, but my work was heavily criticized by a domestic media expert."
But Bu didn't give up on her original idea. Instead, she spent more time studying high-quality documentaries and she resigned from her job with the newspaper, eight months after arriving in Tanzania, so she could focus fully on filmmaking.
With savings of $15,000, Bu bought a new camera and began a four-month trip around Africa.
"The cost of living is quite high in Tanzania, especially for foreigners," she said. "To save money, I rented a room in a dormitory at a textile factory that was built by China in the 1960s."
It cost her $500 a month, one-fifth of the price of renting an apartment. More importantly, it was much safer to live in the factory due to the security system.
"It is inconvenient and unsafe without a car in Tanzania," she said. "I was lucky that I had many Chinese friends, who helped me a lot. They drove me to different destinations and protected me if we encountered any dangerous situations while filming."
In addition to Tanzania, Bu filmed in Kenya, Zambia and Egypt.
She visited child welfare centers, Chinese communities and the African Maasai ethnic group, which all left a great impression on her and contributed significantly to her documentary series.
"I found Chinese people in Africa to be hardworking and industrious, which is showcased in my work," Bu said.
After completing filming, she returned to her hometown of Harbin at the beginning of last year.
With the help of a local TV station, she completed the editing of her five-part series. In April, Bu received an offer from Tel Aviv University in Israel to study an international master of arts degree in Middle Eastern studies.
"I hope I will have more chances to explore the world," she said. "I believe I will succeed wherever I am thanks to my wonderful experiences in Africa."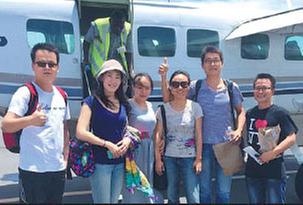 Bu (second from left) poses with her colleagues in Africa.