Building stronger brands will boost China's image
By Maggie Wenjing Liu | China Daily | Updated: 2017-06-21 07:10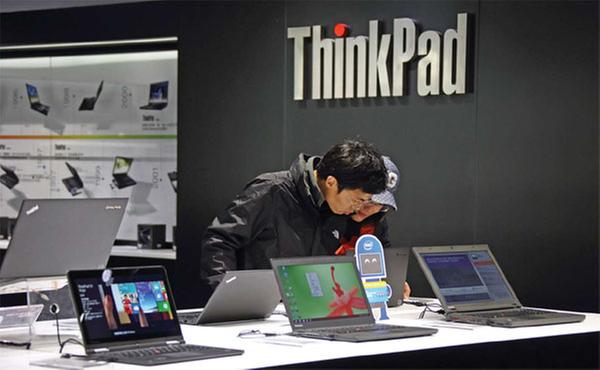 Customers try out laptop computers at a Lenovo outlet in Beijing in 2014. Companies like Lenovo and Huawei have shown it is possible for Chinese brands to make an impact on the world stage. Getty Images
A country's image or national brand is similar to that of a corporate brand, meaning that each country has a specific image in the minds of international consumers. A nation's brand is comprised of at least three elements: its economic image, political image, and technological image. In the global market, a national brand is taken by consumers as an important clue in assessing the value and quality of a country's products, often outweighing the effects of corporate brands in the judgments of consumers.
China has a few globally renowned brands, such as Huawei and Lenovo, in the top 100 brands according to the global brand consultancy Interbrand. But since the country is commonly viewed as "the world's factory", most Chinese brands have yet to capture the loyalty of foreign consumers. Chinese brands such as Li-Ning and Haier have experienced many challenges in international markets, mainly due to their lack of global marketing expertise and communication skills. Therefore, to help Chinese companies compete in the global competition boosting China's image as a manufacturer of quality goods has become a most significant need.
International consumers often have a negative image of "made in China" products. According to a 2013 survey conducted by a Chicago-based market research agency, only 17 percent of the consumers in the United States indicated interest in products originating from China. Moreover, more than 50 percent of the consumers surveyed were unwilling to purchase Chinese brands as they regarded them as being of poor quality, and associated them with a lack of social responsibility and food scandals.
Other than instilling consumers' confidence in its products, another important part of establishing a nation's brand is forging positive perceptions of its institutions and culture. China's long history, rich culture, and growing economic power add a certain positive dimension to China's brand. However, negative foreign media reports on China's economic practices and presenting China as a threat create a bad impression of China in the minds of consumers in other countries.
The pace at which Chinese products are entering foreign markets has grown steadily over the years. China is already the world's largest exporting country and its products are sold all around the world. This indicates that international consumers have a certain degree of faith and interest in Chinese brands. Thus Chinese companies and products can help improve the nation's image and its brand by improving the quality of their products and utilizing their marketing campaigns.
One method of improving China's brand among international consumers is to follow consumer psychology principles in promotions. For example, viewing pictures of ancient Chinese architecture and art can activate a positive country image by associating it with traditional Chinese craftsmanship. This is because ancient China is widely viewed as country with arguably the best manufacturing technology and product quality in olden days, with people coming from all over the world to buy its wares.
Furthermore, developing a nation's brand is the result of cooperative efforts between the government and corporations. Previous studies have found that the establishment of nation's image follows the pattern of product brands, corporate brands, the nation's brand. This means that a nation's image is closely correlated with brand images of its corporations. For example, Spain has used the development of brands such as Zara to successfully grow its brand as a nation.
When a good number of Chinese corporate brands become leading brands, they will help forge a strong brand for China.
2017 is the year with the very first Chinese National Brand Day. It's time to reflect on our strategies for developing and establishing China's brand.
The author is an assistant professor in marketing at the school of economics and management at Tsinghua University.