Tougher regulatory environment would aid A-share market
By Xin Zhiming | chinadaily.com.cn | Updated: 2017-06-21 16:22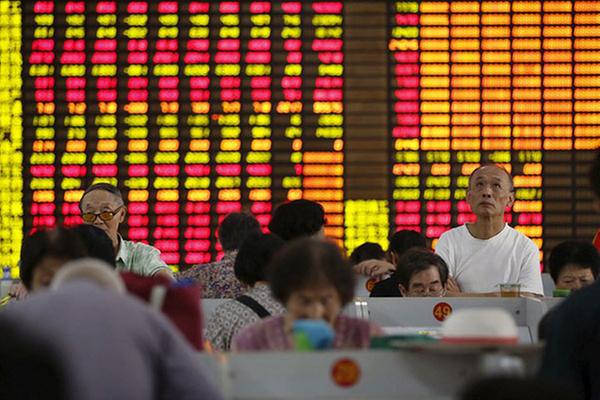 Investors look at computer screens showing stock information at a brokerage in Shanghai, August 13, 2015.[Photo/Agencies]
Some of the mainland's big-cap stocks have been included in a benchmark index of US index provider MSCI, which is widely expected to give a big boost to the wobbling domestic A-share market.
Indeed, the inclusion of 222 A-share companies in its Emerging Markets Index and All Country World Index, beginning in June 2018, could potentially bring in more than $400 billion of funds from institutional investors over the next decade.
However, whether a stock market can fare well does not rely only on capital inflows; more fundamentally, it hinges on a healthy, transparent, and law-based regulatory system.
Such a regulatory system is still needed for the A-share market.
Launched in the early 1990s, the domestic A-share market has made many attempts to improve both the quality of its listed stocks and its regulatory management. Although it has been criticized by many for failing to root out fraud and insider trading, regulators have been strengthening the fight against market irregularities in recent years.
For example, in 2016 and the first five months of this year, the China Securities Regulatory Commission has issued 194 punitive decisions against 108 companies and 558 corporate managers. It also blocked 64 corporate managers and securities companies' employees from continuing to work in the industry and imposed heavy fines on those found to violate relevant laws and regulations.
Still, to better protect investor interests and boost market morale, the commission needs to learn from their Western counterparts and impose tougher punishments on companies and corporate staff found guilty of fraud and malpractices, so as to clean up the market and restore investor confidence.
In China, a stock must get the go-ahead from a special committee of the CSRC before it can be traded. After it starts trading, however, punishments often seem lenient compared with the regulatory practices of Western countries.
A recent case testifying to the leniency shown by the CSRC is that of Jiangsu Yabaite Technology Co Ltd. The CSRC said in May that investigations found the company fabricated overseas business contracts and trade transactions so that its profits ballooned by 260 million yuan ($38.1 million) from 2015 to September, 2016. In 2015, its fabricated profits accounted for 73 percent of its total reported profits, the CSRC said.
The CSRC fined the company 600,000 yuan and forbade some senior company managers from entering the market again.
But the senior managers of the company sold most of their holdings after the share price rose strongly on the back of the padded corporate earnings while individual investors suffered serious losses as the stock price tumbled from a high of 23.95 yuan per share to 8.13 yuan.
Considering the big gains made by the cheats and the lenient punishments they received, the CSRC's decision has been described as being nothing but encouragement for more such fraud.
In a stock market with sound regulatory rules, such light punishments would be unbelievable.
For example, in the well-known Enron fraud scandal, the company was fined $500 million and ultimately de-listed; corporate CEO Jeff Skilling was convicted of securities fraud and sentenced to 24 years and 4 months in prison; chief financial officer Andrew Fastow was sentenced to 10 years imprisonment with no parole; and Arthur Andersen LLP, once one of the global "big five" accounting firms, was found guilty of criminal charges relating to its auditing of Enron, which seriously damaged its credibility and led to its later demise. Loss-suffering shareholders, meanwhile, filed for compensation and received a final settlement of nearly $7.2 billion.
It may take a long time for China's stock market to become as sound as the US', but the regulatory bodies need to demonstrate more resolve to continually strengthen regulation to provide a better environment for domestic and international investors.