Joint efforts can better protect Chinese overseas
By Liu Simin | China Daily | Updated: 2017-06-22 07:00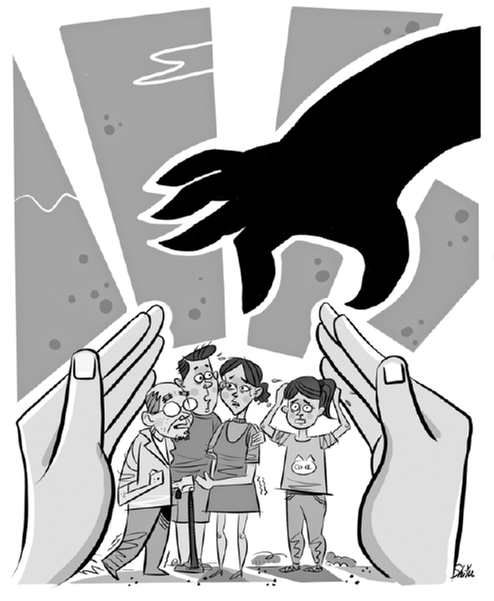 SHI YU/CHINA DAILY
In late May, two Chinese tourists kidnapped in Quetta in Pakistan's Balochistan province may have been killed. On June 9, Zhang Yingying, a 26-year-old Chinese student visiting the University of Illinois in the United States went missing, and the Federal Bureau of Investigation is investigating the case. On June 12, a British court sentenced two suspects to prison for beating a 67-year-old Chinese man, who was visiting his daughter in Preston, Lancashire, to death in a local park on Jan 1.
These attacks on Chinese nationals abroad have prompted some media outlets to discuss the safety of Chinese overseas. But it is far-fetched for media outlest to use headlines such as "Foreign destinations unsafe for Chinese", implying that Chinese people should not travel abroad for fear of safety. Needless to say, such reports are devoid of logic.
Among the three incidents, two were not related to nationality or ethnicity. Only the Lancashire victim was targeted for being a Chinese, as one of the attackers used a derogatory term to denote Chinese nationals. But despite racism being a reality in those countries, most of the people and the governments there strongly oppose it.
And since no major terrorist group is reported to have targeted Chinese overseas, the attacks on Chinese citizens can be attributed to growing uncertainty in those countries because of social conflicts, terrorist attacks and asylum seekers.
Besides, the number of Chinese traveling abroad is rapidly increasing. Last year, Chinese people made 126 million trips overseas, which could have made them more vulnerable to attacks.
Chinese people traveling abroad on business, or for studies or leisure should take all safety precautions, especially because some habits of Chinese tourists make them easy prey for burglars or thieves. For example, many Chinese tourists prefer to carry large amounts of cash and/or hang their cameras like a shoulder bag, making them easy prey for pickpockets and thieves. And since the number of Chinese citizens traveling overseas for shopping has been rising steadily, some gangs in certain countries, such as France and Italy, are more frequently targeting them. But that has little to do with politics, as such risks could decrease if the tourists take precautionary measures.
Of course, Chinese people have to better prepare their trips after researching about their destinations and the cultural milieus there, and take appropriate steps to reduce the risks. For example, the governments of some countries facing terrorist threats may not be in a position to guarantee the safety of tourists in certain regions; it's better not to visit such regions.
For Chinese citizens who work or study overseas, they are advised to stay in touch with Chinese embassies and consulates, and not hesitate to call the local police when they are in trouble.
The Chinese government, too, could take some measures-such as the agreement with the Italian government which allowed Chinese and Italian police officers to conduct joint patrols at some key tourism spots in Italy and China-to make traveling safer for Chinese tourists. And travel agencies and related organizations should give ample information to Chinese people traveling abroad so that the latter can take precautionary measures for their safety.
Liu Simin is vice-president of tourism at Beijing-based Chinese Society for Future Studies. The article is an excerpt from his interview with China Daily's Zhang Zhouxiang.