Let midnight snack shine its real light on me
By Chen Liang | China Daily | Updated: 2017-06-22 07:15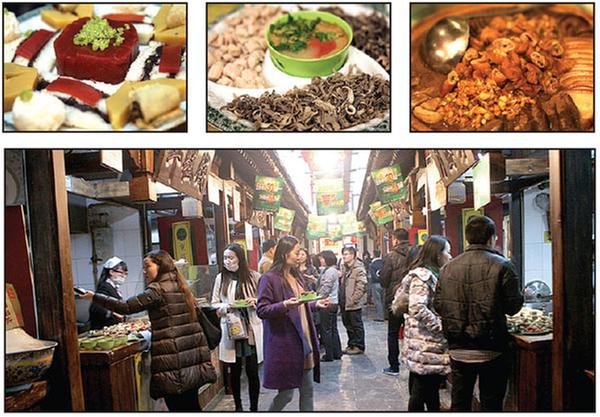 Three of the traditional Beijing dishes available during the "snack exploration tour of Shishahai" at the restaurant which has been adapted from a courtyard house. Zou Hong / China Daily
I was a fan of the hit Japanese TV series Shinya Shokudo, known in English as Midnight Canteen, telecast in the late 2000s. I watched the first 10-episode series as well as the second. Centered on a small eatery in one corner of a shopping district, each episode of the series narrated the stories of its proprietor and his customers on whose request he cooks a special dish or two.
Good food and heartwarming stories were the two selling points of the series.
The series has become a hot topic of discussion on social media again after its Chinese adaptation on TV, using the same title, debuted on Beijing Satellite TV on June 12 and can be watched on many video-streaming sites. Many have ridiculed the Chinese adaptation and a major Chinese TV and movie review site has given it a rating of 2.3, the lowest ever, on its site. In stark contrast, the same site had given the Japanese original a 9.2 rating.
Pure curiosity prompted me to watch the first episode of the new series. But I switched it off after barely 10 minutes, because it is not an adaptation but simply a copy. The protagonist, played by A-lister Huang Lei, is dressed like a Japanese chef, works in an Izakaya, an informal Japanese bar cum restaurant, which is bigger and more appealing than the one in the original, and cooks dishes that are more Japanese than Chinese. And the customers, dozens of them, chat with the cook and each other in exaggerative fashion.
Chinese do love having midnight snacks. China is a gastronome's paradise, with its cities offering a wide range of dishes. But we Chinese remain finicky eaters. Having midnight snacks often means visiting the right place to have the right dish. No cook in such "midnight eateries" will prepare a special dish on a customer's demand. In a country with millions of culinary talents, people trust specialists, not handymen.
Besides, having midnight snacks is an important social occasion for many Chinese, who enjoy them with family members, friends, colleagues or business contacts, but never with strangers.
If I had adapted the Japanese series for Chinese audiences, my screenplay would have been something like this: The protagonist would have been a salesman or saleswoman and a frequent flyer, who flies to different Chinese cities on business and enjoys midnight snacks there with his or her friends or business contacts.
In Chengdu, Sichuan province, my hometown and one of the country's major culinary destinations, people meet in hotpot restaurants to taste the city's famous chuan chuan xiang, or "hot and spicy dips". A variety of food, from vegetables to meats, are finely sliced, threaded onto bamboo skewers and boiled in a hotpot till they become perfect to go with cold beer. That could have been part of a couple of episodes of the Chinese version.
One episode could have highlighted a street eatery serving only one major dish-pettitoes soup, a bowl of hot and rich soup with pig knuckles, so tender that they melt in your mouth.
Another episode could have focused on midnight snacks in a teahouse.
A local friend places an order through a mobile phone app and half an hour later, a deliveryman puts the dish, a sizzling grilled rabbit, in tin foil on the table. This can be part of another episode.
In Guangzhou, Guangdong province, another city known for its night dining scene, our protagonist would meet his/her friends in a dim sum restaurant to have "night tea" to enjoy the rich variety of dim sums with tea.
In another episode, the protagonist and his/her friends could be having fish porridge on a bank of the Pearl River.
In fact, if one episode features only one special dish in a different city, the TV series could have run for several seasons.
Weaving heartwarming stories into a culinary journey is certainly a challenge. But highlighting the authentic Chinese midnight snacks may help draw more viewers and earn better ratings.
The author is a senior writer with China Daily.
chenliang@chinadaily.com.cn