JD eyes luxury sector expansion
By Fan Feifei | China Daily | Updated: 2017-06-23 07:08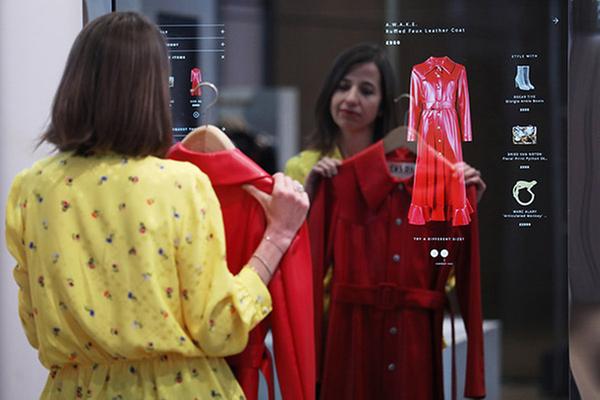 Sandrine Deveaux, managing director of Store of the Future, demonstrates the operation of a touch screen mirror to select fashion items at the launch of Farfetch UK Ltd. [Photo/Agencies]
JD.com Inc, China's second-largest e-commerce player, said it will invest $397 million in London-based online fashion retailer Farfetch UK Ltd to further penetrate the luxury sector, amid fierce competition with Alibaba Group Holding Ltd.
JD will become one of the largest shareholders of the UK firm following the transaction, and its founder and CEO Liu Qiangdong will join Farfetch's board, JD said in a statement.
Farfetch will leverage JD's existing logistics, internet finance, technology capabilities and social media resources, including its WeChat partnership, to expand its sales channels in China, as well as allow Chinese consumers to access luxury brands online.
The announcement comes as JD attaches greater importance to high-end luxury and fashion to meet the huge demand among its upwardly mobile customers.
"As part of our major luxury push, we could not have found a stronger online partner than Farfetch," said JD CEO Liu Qiangdong. "We have always believed that the long-term trend of Chinese e-commerce is toward quality over price."
Liu said JD is looking forward to deepening its relationships with Farfetch and luxury brands in the future.
The cooperation will benefit 700 global brands and boutiques on Farfetch's platform, enabling them to take advantage of JD's vast resources and tap into China's luxury market.
"China is the world's second-largest luxury market, and we are delighted to have such a respected partner. This partnership addresses the market's challenges by combining the Farfetch brand and curation with the scale and influence of the foremost Chinese e-commerce giant," said Jose Neves, CEO of Farfetch, which raised $110 million in 2016 in a Series F round of funding.
Alibaba, JD's largest domestic rival, has expanded heavily into luxury goods with its online marketplace Tmall.
Lu Zhenwang, chief executive officer of Shanghai-based Wanqing Consultancy, said JD has an upper hand in selling electronic devices and home appliances, and it is making efforts to introduce clothing and luxury products to attract more affluent Chinese consumers.
"JD currently has a weakness in the luxury supply chain. Through its cooperation with Farfetch, JD will enhance its presence in the luxury sector and expand its luxury offerings," said Lu.
Since the beginning of the year, JD has hired Winston Cheng as president of international to lead its international business development with global partners and overseas investments, and created a new business unit, JD Fashion.