Alibaba's Jack Ma in US, aims to attract more businesses
Xinhua | Updated: 2017-06-23 10:03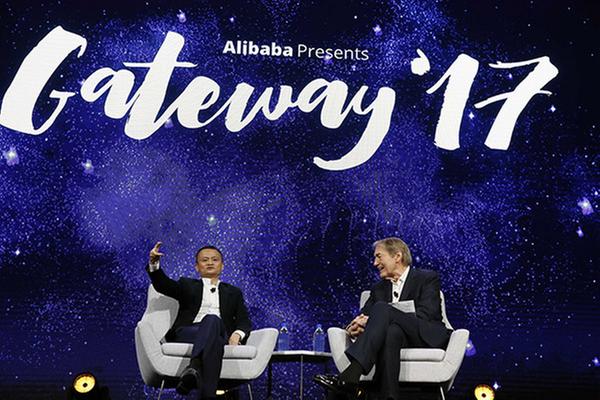 Jack Ma (L), chairman of the Chinese e-commerce giant Alibaba, is in a conversation with Charlie Rose (R), famous American television talk show host and journalist at Gateway'17 in Detroit, US, June 20. [Photo/Xinhua]
DETROIT - Air Traffic was jammed and hotels were full in the US city of Detroit on Monday when more than 3,000 business representatives flocked in for the Gateway 17 conference, Aibaba's biggest-ever public event, in the United States.
Addressing to thousands of entrepreneurs at the two-day session, Jack Ma, the founder and chairman of the Chinese e-commerce giant Alibaba, educated owners of US small and medium-sized enterprises (SMEs) on marketing their companies to Chinese consumers.
"For me CEO has a different meaning -- Chief Education Officer," he joked.
Why Chinese market
"If you miss China, you miss the future," Ma told the group of entrepreneurs at Cobo Center in Detroit.
He emphasized in his keynote speech the importance for US businesses to tap into the huge Chinese market.
Indeed, Chinese consumers are shopping around the world. Cross-border retail e-commerce spending in China is expected to grow six-fold to $245 billion between 2015 and 2020, according to AliResearch and Accenture.
Meanwhile, China has the highest share of e-commerce sales and total retail sales in the world, according to eMarketer, a New York-based market research company. E-commerce sales in China are expected to account for 37 percent of total retail spending worldwide by 2020, data from eMarketer showed.
The more than 500 million consumers on Alibaba's platforms are upgrading their lifestyles and yearning for high-quality American products, resulting in a drastic increase in online shopping, with the majority of which conducted through mobile devices.
Ma said domestic consumption in China has played a leading role in boosting the country's economic growth which would drive the world economy in the next decades to come.
He is confident that Alibaba will be able to create 1 million jobs in the United States in the next five years by helping 1 million small US businesses sell their products to China and Southeast Asia.
In California alone, Alibaba has already helped create more than 20,000 jobs, said Ma.
"We are made in China but we are made for global," said Ma. Globalization and free trade rules that were designed for big companies and developed countries need to be changed to benefit small businesses, young entrepreneurs and farmers around the world, he added.
Ma pledged that Alibaba would be dedicated to helping SMEs to go global as it always did over the past 18 years.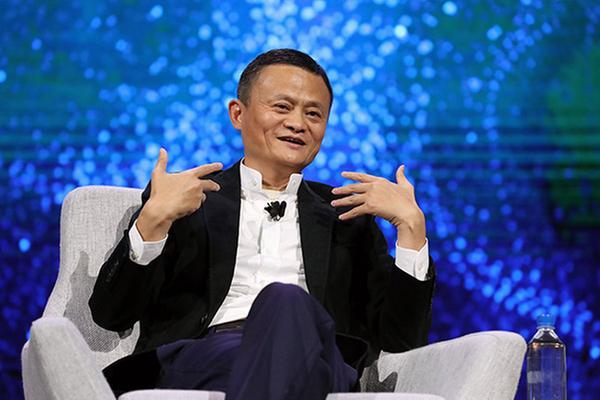 Jack Ma, chairman of the Chinese e-commerce giant Alibaba, is speaking during a Keynote Program at Gateway'17 in Detroit, US, June 20. [Photo/Xinhua]
Jack Ma's charisma
On the second day of the conference, Ma met with his old friend Bruce Thelen, a veteran attorney who left his post in Wall Street in 1980 for a trip around the world.
Nearly 40 years ago, a teenaged Ma greeted Thelen out front of the only hotel opened to foreigners in Hangzhou, China, offering to guide him to tour the city for free.
According to Ma, he spent about eight years offering free tours to foreign tourists just to practice English and listen to stories that were so alien to him at that time.
The audience burst into applause when Ma recalled his old days and what he did contrary to convention.
Ma said listed companies usually put shareholders' interest at the top of their priority list, but he reversed it by considering customers' interest first.
"If the customers are happy, the employees are happy, then the shareholders should be happy," he said, adding that it's unimaginable or even disastrous for a company when shareholders are happy but customers and employees are not.
Fighting counterfeits
Allegations from brands of widespread counterfeit goods on Taobao and Tmall Marketplace have long been the thorny problem for the company which Ma called a "cancer," and promised to do everything to solve.
Ma said Alibaba has invested heavily in technology, talents and resources to fight counterfeits.
"Afraid of our data tracking ability, people who make counterfeits are escaping from our platform," he said, elaborating that the company could now track who are buying, selling, and producing counterfeits.
To better protect intellectual property rights, Alibaba also plans to expand the scope of off-line cooperation with law enforcement agencies, and help identify and eliminate factories producing counterfeit goods.
US SMEs on Tmall
US SME forerunners have benefitted from the vast Chinese market. About 7,000 US brands, big and small, market and sell on Tmall today, including Nike, Apple, Starbucks, Victoria's Secret, Stadium Goods, LuckyVitamin, Jewelry.com and Real Techniques.
John McPheters, co-founder and CEO of Stadium Goods, said the company had its eyes set on China very early because collectible sneakers is a $6 billion industry and is particularly popular in China.
"We decided to partner with Tmall Global because it is a trusted platform and it is where Chinese consumers go to shop," said McPheters.
Sam Wolf, on the other hand, has just started to know about Chinese consumers. Having opened a Tmall Global store for around half a year, Wolf saw huge growth potentials for his products in China.
"Right now China is one of our top three overseas markets, and I won't be surprised if it becomes our largest market in the future," said Wolf, who founded LuckyVitamin, an online natural products retailer based in Pennsylvania.