Life sentence cut to 5 years after appeal claims self-defense
By Cao Yin | China Daily | Updated: 2017-06-24 07:44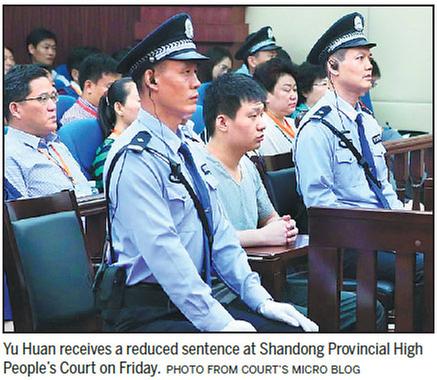 In a nationally watched case, the Shandong Provincial High People's Court cut a man's life sentence to five years in prison on Friday after he appealed on the basis of self-defense.
Yu Huan, 22, was sentenced to life in prison for intentional injury on Feb 17 by a court in Liaocheng, Shandong province, after he stabbed four debt collectors with a knife. One of them died.
Yu appealed, saying that he and his mother, Su Yinxia, were confronted by several debt collectors in April 2016, and one of them insulted Su by exposing his body to her.
The case ignited a public outcry after it was posted online, with many people saying the punishment was too harsh. Some criticized the police, saying they had not done a good job on the case.
The high people's court publicly reheard the case on May 27, when prosecutors and Yu's lawyer debated whether Yu's behavior constituted self-defense.
On Friday, the high court made the final ruling, which overturned the initial sentence based on Yu's self-defense appeal. But it said that Yu's actions were excessive and affirmed his guilt.
"The case caused one death and two serious injuries. The convict has brought great harm to others, which constitutes the crime of intentional injury for excessive defense," the verdict said. "Laws respect human dignity, as well as protecting people's health and right to life," it said. "The debt collectors' insulting behavior should be punished and blamed, but it doesn't mean Yu's defense could be excessive."
Under the Criminal Law, people convicted of intentional injury will be sentenced to at least 10 years in prison, but those who defend themselves excessively can be given leniency or exempted from punishment.
"The dignity of Yu and Su was harmed and their health also damaged in the case, but given the serious results that Yu brought on the other four people, we decided to punish Yu leniently, giving him a five-year sentence and not the exemption," the verdict said.
All information about the case, including photos and videos, was disclosed on the court's micro blog.
Chen Weidong, a law professor at Renmin University of China, applauded the transparency the high court demonstrated during the trial and the final judgment. "The more open our trials are, the better justice is achieved," he said, adding that transparency also lessens anxiety and confusion among the public.
Shandong prosecutors also released an official investigation report saying that while officers in the case failed to effectively separate Yu and the debt collectors, the officers' behavior should not be considered dereliction.