Now, HP 3-D printers change manufacturing
By Wu Yiyao in Shanghai | China Daily | Updated: 2017-06-27 08:22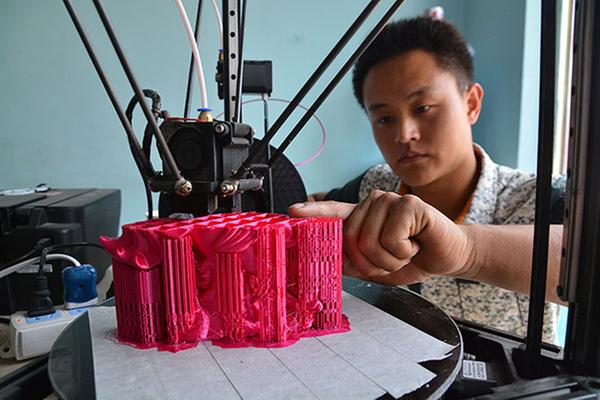 A man operates a 3-D printer at a company in Rizhao, Shandong province. [Photo/China Daily]
HP, one of the world's largest providers of printing solutions, said it is introducing a range of commercial 3-D printers across China, which is expected to revolutionize manufacturing.
HP 3-D printers are expected to be used to manufacture components and parts in fields like aerospace, medical technology, consumer goods and automobiles, said Ramon Pastor, vice-president and general manager of HP 3-D Multi Jet Fusion, a unit of HP Inc.
"We're on the cusp of a transformation in manufacturing, enabled by new technologies such as 3-D printing, artificial intelligence and robotics. HP is building a strong community of local resellers and customer experience centers that will provide comprehensive support to help our customers leverage this transformation," said Pastor.
In the past, 3-D printers were used in making prototypes or personalized products. Now, they will be used in mass production, according to Pastor.
For example, manufacturers of automobiles and consumer goods such as mobile phones are going to benefit from 3-D printers that can "print" parts that have accurate dimensions, weigh less or are customized.
Even smaller companies and startups can benefit as 3-D printers help cut costs and shorten time taken to convert an idea into a prototype or mass-produced products, said Pastor.
HP's 3-D printers offer better quality, speeds that are 10 times faster than comparable manufacturing machines, and save up to 50 percent on costs, said Pastor.
HP's 3-D printers can also use a range of new materials to manufacture parts and components that can help improve products' performance.
In China, HP will collaborate with Sinopec Yanshan Petrochemical Co in developing the materials ecosystem. Currently, Arkema, BASF, Evonik, Henkel and Lehmann & Voss are the leading players in the materials ecosystem.
"We'll expand our open platform with more local partners in China to expand the availability of new materials and address a broader set of applications. We'll help lower costs of materials and R&D, and create new potential functions for parts to address specific industry needs," said Pastor.
According to Gartner Inc, an information technology market research firm, 3-D printer shipments exceeded 490,000 units worldwide in 2016, up 108 percent year-on-year.