Think tank urges EU to embrace free-trade talks with China
By Fu Jing in Brussels | chinadaily.com.cn | Updated: 2017-06-28 06:33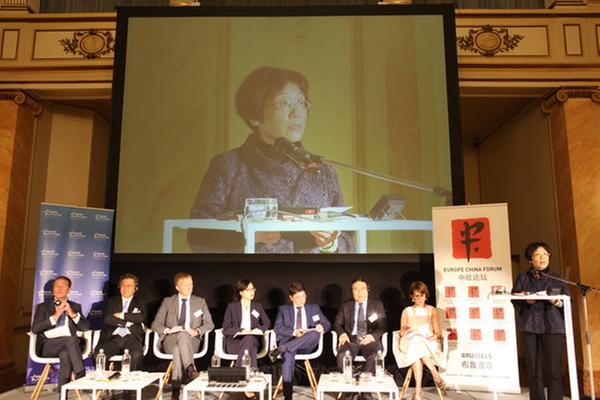 Head of the Mission of the People's Republic of China to the European Union Yang Yanyijoined a group of Chinese experts in Brussels on Tuesday at the Europe-China Forum where they urged the EU to start free-trade talks with China. [Photo by Fu Jing/China Daily]
The European Union should reconsider its China policy and reset its priority portfolio by starting bilateral free-trade talks urgently, allowing both sides to make a strong commitment to globalization, experts from a leading Chinese thinktank urged on Tuesday.
Following Premier Li Keqiang's recent call for a feasibility study on bilateral free-trade talks, the experts said such actions are essential in cushioning the rising negative impacts of a string of global challenges.
"Against the fast-changing global environment, the European Union must accelerate its steps to reconsider its priorities in dealing with China," said Chi Fulin, president of the China Institute of Reform and Development, who was speaking at the two-day Europe-China Forum, which ended on Tuesday.
"I believe one pressing priority should be EU-China free-trade negotiations, which the EU has already started or concluded with several Asian partners," said Chi, who led a group of Chinese experts to the forum that was organized by the Mission of China to the European Union, the Brussels-based think tank Friends of Europe, and his organization.
China Daily is a media partner of the policy discussion.
Chi said the wide global recognition of the Belt and Road Initiative, which is mainly aimed at better connecting Asia, Europe, and Africa, should work as a "new trigger" for the EU to reset its economic and trade policy portfolio as it relates to China.
Chi said China had proposed a wide "free-trade network" that would connect all countries participating in the Belt and Road Initiative, which should also be in the interest of the EU, which isa global forerunner and champion of free trade and globalization.
"So, logically, the EU, of which many member states have been passionate about participating in the Belt and Road Initiative, should engage with China in launching free-trade feasibility studies as soon as possible," said Chi.
But the EU has not responded to China's proposal.
At the EU-China summit earlier this month, Premier Li said he would be "fully supporting" free-trade talks, should the EU agree to start them.
The major impediment from the European side seems to be that both sides have already listed their 2020 cooperation plans, in which talks about a bilateral investment pact were high on the agenda. The Europeans believe trade talks can only be started after the investment pact negotiations have been concluded.
Chi has urged the EU to combine the ongoing investment talks with free-trade negotiations, something that would indicate the "deepened ambitions" of both sides to strengthen economic relations.
In responding to Chi's proposal, European Commissioner for Trade Cecilia Malmstrom said the EU would take a "realistic approach" in reviewing the proposal, and noted that it also takes time for the European Commission to "obtain a mandate" from member states to kick off such talks.
Yang Yanyi, head of the mission of the People's Republic of China to the European Union, has also requested both sides deepen trust and cooperation to cope with global uncertainties.
She confirmed that launching a feasibility study into free-trade talks is high on China's agenda.
Representatives of businesses at the forum responded actively toward the China-EU free-trade proposal.
"This arrangement, in my opinion, will be reducing the cost and tariffs hugely and removing barriers for both sides," said Liu Miao, chairman of LuzhouLaojiao Group, a leading Chinese liquor producer from Sichuan province.
At the forum, Liao said Switzerland and Iceland have already set excellent examples to the EU of harnessing such trade deals with China. "We believe this can also be turned into a reality between China and the EU, the world's influential economies," Liao said.
Zhao Jinping, a senior researcher at the Development Research Center of the State Council, a think tank for the central government, has also urged the EU to accelerate the speed at which it engages with China, economically and strategically.
"Against rising elements related to globalization, we must recognize what are negative and what are positive," said Zhao."In my view, the Belt and Road Initiative is a positive contribution of global public good from the Chinese side."
Zhao said investment and trade activities between China and countries participating in the Belt and Road Initiative are robust, which have laid a solid foundation to deepen free-trade talks and form free-trade networks.
"Facing rising uncertainties and challenges, China and the EU should work together to inject more confidence and certainty into this multilateral world," said Zhao.
Zhao noted that United States President Donald Trump has softened his tone with regard to China and shown interest in the Belt and Road Initiative.
Zhao also said the risk of a trade war between the US and China have already greatly reduced following intensive contacts between the two nations in recent months.
"This is a nice reminder to the EU and we hope that the EU can replace its China policies that were created in old circumstances," said Zhao."It must make its policies applicable to the new situation of the changing world."