A moment of fear as 72-hour window closes
By Zhang Zhihao | China Daily | Updated: 2017-06-28 07:34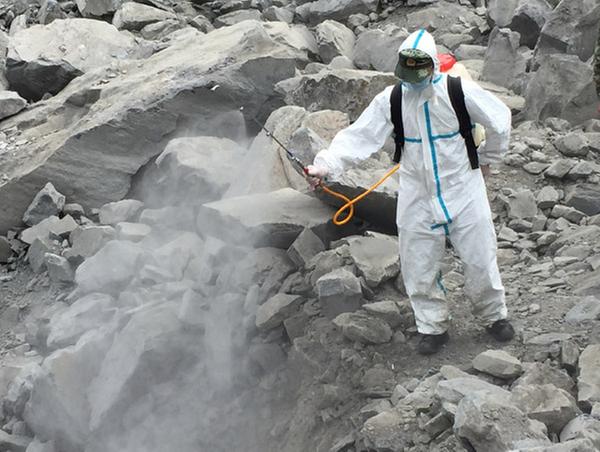 A worker in a protective suit spreads disinfectant on the landslide in Maoxian, Sichuan province, on Monday.Zhang Zhihao / China Daily
At around 7:30 am on Monday, I put my boots on in 10 seconds and ate breakfast in 120 seconds before heading out to the scene one last time. Monday was the last day of the 72-hour golden rescue period - the time frame in which it was still theoretically possible to find a survivor in the landslide in Xinmo village, Sichuan province.
I was one of the few journalists allowed to enter the rescue area. There were no weeping relatives, no civilian rescuers, only professionals and equipment from the Armed Police and regional fire department - all busy doing their work.
There were also health workers from the Sichuan Armed Police Hospital, spreading liquid disinfectant throughout the area. They spent extra time spreading the material in holes where bodies have been found, fearing that the remnants of disintegrating flesh could contaminate the area.
As I was taking pictures, I accidentally fell into one of the holes after slipping on a rock covered by wet disinfectant. Suddenly, a jolt of fear and regret gripped me. I knew that under some circumstances this could be my grave.
I sat there in the empty hole for a few seconds before my senses kicked in. It was then that I truly realized how dangerous the area was and how everyone was risking their own lives to save others.
Armed Police officers were probing the rubble with snake-eye detectors - long, flexible metal cameras that can find vital signs 15 meters underground. However, the officers occasionally stick their heads under a large boulder for a better view.
"The situation here is dire. The debris is heavy and has little breathing room, but we will spare no effort," said Jiang Haonan, the 30-year-old commander of a 16-member special search team, armed with radar and other detectors.
Three scientists from the Sichuan Institute of Nuclear Geology were flying a scientific survey drone around in the air. But there are things the drone cannot see. On Sunday, the team climbed for two hours to the middle of the slope to make sure the large boulders there were stable.
"Some of the unsafe boulders have been moved to the bottom of the slope," said Gao Feiyun, 27, the team's data analyst. "But there's a 30-metric-ton rock on the northern edge of the slope, and every time I look up my eyes gravitate to that rock."
Wen Bin, Gao's teammate, said: "It is very dangerous for rescue workers. These boulders could tumble at any moment."
The drone, along with other detectors, closely monitored the slope. They will send a message to the rescue team if they detect danger, he said.