DJI signs MoU with Dow on drones
By Shi Jing in Shanghai | China Daily | Updated: 2017-06-28 07:35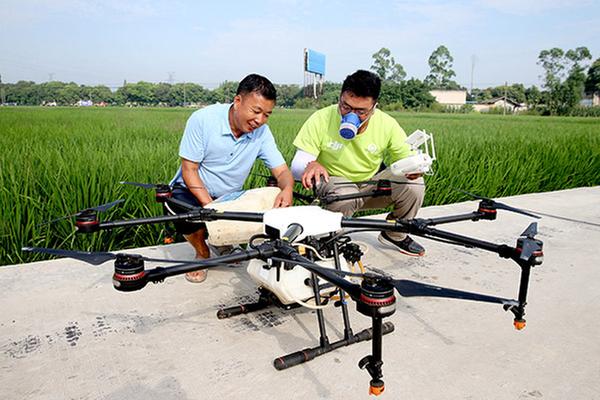 Farmers use a drone to spray pesticides in Meishan, Sichuan province. [Photo/China Daily]
Shenzhen-based drone maker DJI Innovation Technology signed a memorandum of understanding with Dow AgroSciences on Tuesday to work on the research and application of crop protection drones and technology.
Dow AgroSciences, which is a wholly owned agricultural subsidiary of the United States' largest chemical company Dow Chemical, specializes in crop protection and seed products sold in more than 130 countries in the world.
The two companies will conduct experiments to test the crop protection products carried and sprayed by drones. They will test and track the effect of drones spraying Dow AgroSciences' herbicide, insecticide, antiseptic products to come out with an optimized spray mode, pesticide formulation and dosage.
The experiments will be first carried out in Heilongjiang, Jiangsu, Zhejiang, Anhui and Jiangxi provinces, starting the trial with rice.
According to Zhu Yue, general manager of Dow AgroSciences in China, it is the first time that the agricultural company has worked with a drone maker. Even back in the US where Dow AgroSciences comes from, there is no such cooperation yet. They will look for opportunities in other markets once the attempt in China proves fruitful.
DJI is the world's largest drone maker, accounting for 70 percent of the global consumer drone market. Its MG series crop protection drones will be adopted for the cooperation. Priced at 42,000 yuan ($6,163) each, the machines are mainly sold to professional crop protection teams who provide pesticide spraying services to farmers.
The drones will only take 10 percent of the time used by human labor to spray pesticide on the same area of farmland. One such drone will bring in 3,000 yuan of income per day to the crop protection team as long as the weather permits, according to DJI.
Cao Nan, global sales director of DJI's agricultural drones, said that more than 6,000 MG series drones have been shipped since the machines were first introduced in the market in March last year. The drones have been operated in most of China except Beijing, Hong Kong and Macao.
"China has overtaken Japan to be the home to the largest number of agricultural drones worldwide since the number of such machines has been increasing sharply over the past 12 months. We believe drones will help with China's agricultural industrial upgrading," he said.
According to the 2016 China Drones Industry Report released by market consultancy iResearch, the market volume of China's agricultural drones will reach 20 billion yuan by 2025. While agricultural drones became a popular investment target in 2015, the coverage of such machines is only 2 percent at present, far below the average 40 percent coverage rate in Japan.