Amazon launches new Kindle for Chinese readers
By Fan Feifei in Shanghai | China Daily | Updated: 2017-06-28 07:40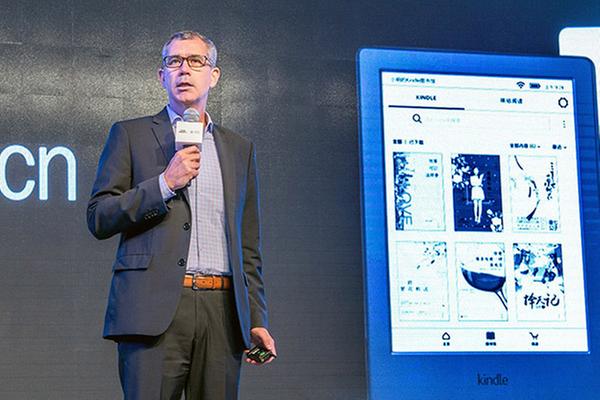 Bruce Aitken, general manager of Amazon Reading, introduces the Kindle X Migu e-reader on Tuesday in Beijing. [Photo provided to China Daily]
Amazon.com Inc announced a strategic partnership on Tuesday with China Mobile Communications Corp's subsidiary Migu Culture and Technology Group Co, and launched a new Kindle created exclusively for Chinese readers that integrates abundant online literature content into its e-reader.
The device combines more than 460,000 Kindle e-books and over 400,000 online literature titles from Migu, one of the largest online literature platforms in China. With a price tag of 658 yuan ($96.6), the all-new Kindle X Migu e-reader, is the first-ever co-branded Kindle bringing a completely new digital reading experience to online literature.
David Limp, senior vice-president of Amazon Devices, said China has become the largest market in the world for Kindle and enjoys double-digit growth annually, adding that Chinese readers are not just satisfied with reading on mobile phones, and they want to have an immersed reading experience through various Kindle e-reader devices.
"Our cooperation with China Mobile is not only on devices, but also content and services. Digital reading is now favored by Chinese readers, who are also willing to pay for e-book content," said Bruce Aitken, vice-president of Amazon China and general manager of Amazon Reading.
Sha Yuejia, executive vice-president of China Mobile, said China's digital reading market reached 12 billion yuan last year, with users surpassing 300 million, estimating the growth will remain over 20 percent this year.
"The prospects for digital reading are very promising. We will carry out cooperation with Amazon in the R&D of digital reading content," said Sha.
Kindle has witnessed rapid growth in the Chinese market. In comparison with January 2013, Kindle offers 14 times more e-book options in China, and the active Kindle subscribers each month increased 27 times as of the end of December 2016.
China's e-reading market is expected to reach 14 billion yuan in 2017, up 18 percent from 12 billion yuan in 2016, according to an estimate from Beijing-based consultancy Analysis.
Huang Guofeng, an analyst with Beijing-based consultancy Analysis, said Amazon aims to gain Chinese users who have high standards for digital reading through creating an excellent reading experience and cooperating with local publishers.
He said China's digital reading market shows huge growth potential and the habit of paying for what you read is also being formed.
"However, Amazon seems to pay more attention to buy copyrights, but not nurture or support local authors and original online literature directly," he added.
Kindle, which enjoys the status as the pioneer of the e-book industry in the world, is not the only company betting on the e-reading market in China. Beijing-based iReader Technology Co Ltd, released its latest e-book reader iReader Light in early September, which weighs only 142 grams, priced at 658 yuan.