Hoofing it in the fast lane
By Cui Jia | China Daily | Updated: 2017-06-29 07:32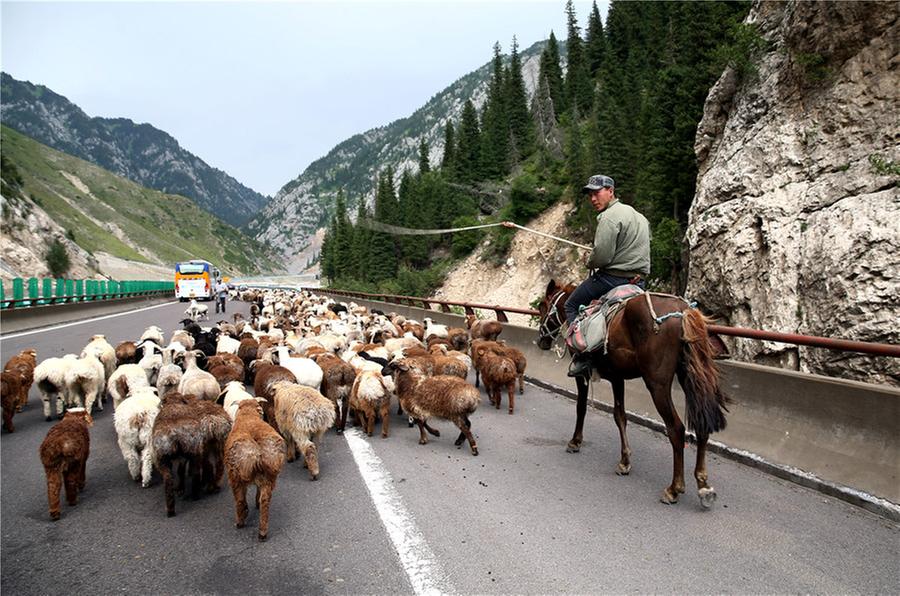 A herdsman uses the Guozigou section of the Lianyungang-Horgos expressway to move his sheep between seasonal pastures.[Photo by Zou Hong/China Daily]
Xinjiang nomads use expressway along ancient migration route to herd sheep, camels and horses
Commuters who regularly use a highway running through the Xinjiang Uygur autonomous region all know the golden rule when they see a herd of animals in the road: listen to the sheepdogs.
The Guozigou section of the Lianyungang-Horgos expressway runs along part of a route that has been used by nomadic herdsman for thousands of years to move livestock between seasonal pastures.
People from the Kazak ethnic group based in the Ili Kazak autonomous prefecture continue this ancient practice even today.
More than 400,000 sheep, camels and horses are herded along parts of this 33-kilometer section of highway every year-to higher altitudes when the weather heats up, and to the bottom of a valley when the mercury plummets.
For drivers, the rules are clear when encountering livestock: slow down, no car horns, leave one lane clear and heed the instructions of the herdsmen's sheepdogs, who will often stop in front of cars to protect the animals.
On a warm day this month, Wang Xiaojun, 35, sat in his car waiting patiently as a herdsman on a horse and his dogs wrangled more than 100 sheep into a single lane.
A Guozigou police officer who was passing by stopped to help direct traffic. "Next time, make sure you use the livestock lane," he called to the herdsman, pointing to a dirt road beside the highway.