Sichuan tech grads urged to support 'Made in China 2025' plan
By Huang Zhiling | chinadaily.com.cn | Updated: 2017-07-03 18:07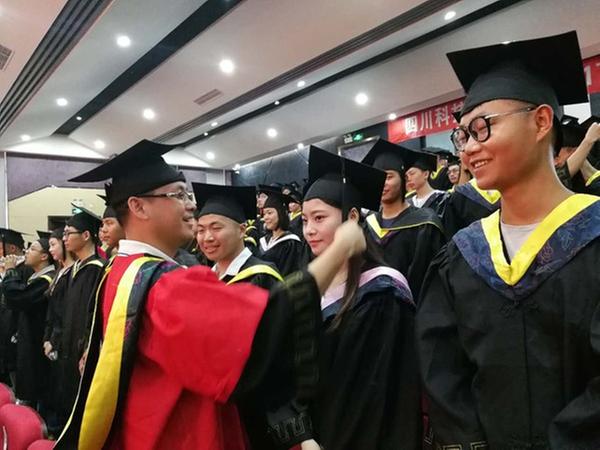 A teacher congratulates graduates in the graduation ceremony held Saturday at Sichuan University for Science and Technology in Chengdu, capital of Southwest China's Sichuan province, July 1, 2017. [Photo by Xiang Yun/for www.chinadaily.com.cn]
Sichuan University for Science and Technology in Chengdu, capital of Southwest China's Sichuan province, held a graduation ceremony for its 4,726 graduates on Saturday, with participants pledging to contribute to their motherland with technology.
The university, which also has a campus in the Tianfu New Area, China's 11th national-level development area, in Renshou county in Sichuan, is strong in training students with applied technology in Sichuan.
Emulating advanced teaching methods in the world, the university is aimed at becoming a "California Institute of Technology" in the east, according to university president Hao Jianping.
Speaking at the ceremony on Saturday, Hao encouraged all the new graduates to work with the spirit of craftsmen during their lifetimes and contribute to China's technological development when it is implementing the 'Made in China 2025' plan
To rejuvenate themanufacturing sectors, the world's major economies have resorted to different programs and strategies.
The United States has proposed a manufacturing industry renaissance program and Germany has formulated an Industry 4.0 strategy, while China is implementing the 'Made in China 2025' plan to modernize its manufacturing through technological upgrades, knowledge-based industries and environmentally-friendly development.'