Second-tier cities roll out incentive to woo graduates
By Wang Zhaokun | chinadaily.com.cn | Updated: 2017-07-04 15:39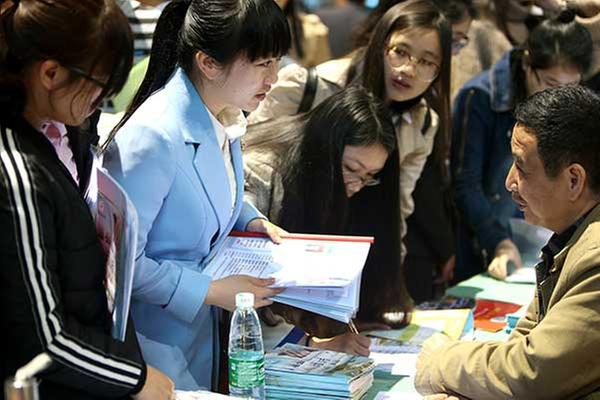 Graduates from normal universities in Hunan province interact with their potential employers at a job fair in Hengyang in March. [Peng Bin/For China Daily]
A series of incentives have been rolled out in second-tier cities to woo college graduates pushed out of first-tier cities by skyrocketing housing prices and strict residency permits.
Chengdu in Southwest China's Sichuan province is offering graduates Hukou, or residency permits, even before they get job. The graduates can get local Hukou by simply submitting their graduate certificate.
The government in Changsha, Central China's Hunan province, has also introduced a no-threshold residency permits policy targeting university graduates.
Graduates who get Hukou in Changsha also get subsidies in rent or buying houses in the city.
This year saw a record of 7.5 million students graduated from China's universities and colleges.
But China's first-tier cities, mainly Beijing and Shanghai, have tightened their control over residency permit policy, fearing an excessive influx of students from other areas would stress out local resources.
Beijing has been capping its population as it pushes forward the Beijing-Tianjin-Hebei regional integration program.
The capital has been moving out labor-intensive and polluting industries such as real-estate construction, steel, coal and mechanics.
Soaring housing prices are also driving people out of the country's first-tier cities
The outflow of graduates has been more voluntary in recent years, as students escape high-cost, high-pressure lifestyle in mega cities.
Meanwhile, universities and governments of non-first-tier cities are also advising and assisting students to seek jobs in their cities.
According to a report by 21st Century Business Herald, over 150,000 local graduates chose to stay in Wuhan, Cental China's Hubei province, for work in 2016. In contrast, only 100,000 made the same decision in 2013.
However, it's still too early to say if the incentive policies would be able to retain graduates in the second-tier cities.
Especially as many graduates find it harder to land a proper job in finance, internet and communications in second-tier cities.
Wang Fang, who came to Wuhan from Beijing to work at an internet company, told 21st Century Business Herald that he is considering going back to Beijing.
"Many of the employees of the company, including me, did not get our salaries for months. Compared to first-tier cities, there are not many high quality enterprises in second-tier cities," he said.