College presidents motivate graduates
By Zhao Xinying | China Daily | Updated: 2017-07-05 07:33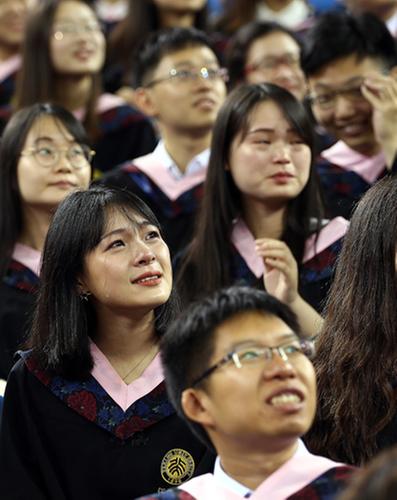 Graduates of Peking University weep while watching videos reviewing their college days during a graduation ceremony in Beijing on Tuesday. [Photo by Zou Hong/China Daily]
Commencement speeches offer advice on overcoming life's obstacles
Every summer, as millions of university students graduate, the spotlight falls on commencement speeches delivered by college presidents.
Observers are often curious how the leaders of such institutions will seize the final opportunity to pass on their wisdom to the young minds they have helped nurture before they head into the world.
Peking University, one of China's best, held its graduation ceremony for the class of 2017 on Tuesday, with more than 3,000 students obtaining bachelor's degrees.
At the commencement, Lin Jianhua, the university's president, cited his own experience and told the graduates to accept the unchangeable, have the guts to change situations that can be altered, and have the wisdom to tell the difference between the two.
Lin had an opportunity to be recommended for a university when he was working at a farm in the Inner Mongolia autonomous region four decades ago during the "cultural revolution" (1966-76).
But for reasons unknown to him, he lost the opportunity and another person was recommended.
"It was hard to face the reality and it took a long time for me to get over it. But when I finally did, I got more than I expected," he recalled, adding that he took the national college entrance exam the following year and was admitted to Peking University-a better college than the university he missed out on.
"Life is full of surprises," Lin told the graduates. "Everyone will encounter unbearable situations. I hope that you can have the courage and wisdom to face and deal with them."
Qiu Yong, president of Tsinghua University, another prestigious university, stressed the importance of independent thinking in his commencement speech on Sunday.
"I hope that the biggest success you achieved during the past four years at college is that you have gradually formed your own thinking," he told 3,000 graduates.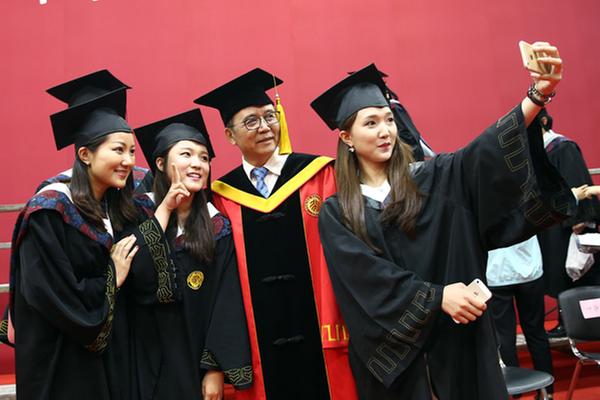 Graduates of Peking University take a selfie with Lin Jianhua, president of the university, after their graduation ceremony in Beijing on Tuesday. [Photo by Zou Hong/China Daily]
"Being able to think independently cannot be fully achieved in your four years of college life; it should be a goal for your lifetime, and I hope that you read more and travel more to realize that goal," Qiu said.
He also recommended graduates read A Short History of Chinese Philosophy, a classic work by Feng Youlan, a late professor of philosophy at the university.
"I hope that by reading the book, you are able to see Chinese culture from a modern and a global perspective and appreciate the charm of thinking," he said.
China University Media Union, a joint organization for more than 60 Chinese universities, collected and analyzed 116 speeches delivered by university presidents in China at commencements in 2017, and found that words such as innovation, dream, responsibility and the Chinese nation were frequently mentioned in university leaders' speeches.
Dou Xiankang, president of Wuhan University in Hubei province, encouraged graduates to shoulder the responsibility of achieving the rejuvenation of the Chinese nation, and the responsibilities of boosting technological innovation and making a global impact.
Gong Ke, president of Nankai University in Tianjin, said in his speech that the university had a responsibility to the Chinese nation and urged the graduates to combine their own dreams with the dream of the nation.
Wang Cheng, president of Lanzhou University in Gansu province, said in his speech that he hoped the graduates could help realize the Chinese dream and stay open-minded.