Philippine President Duterte vows for closer relations with China
Xinhua | Updated: 2017-07-26 09:18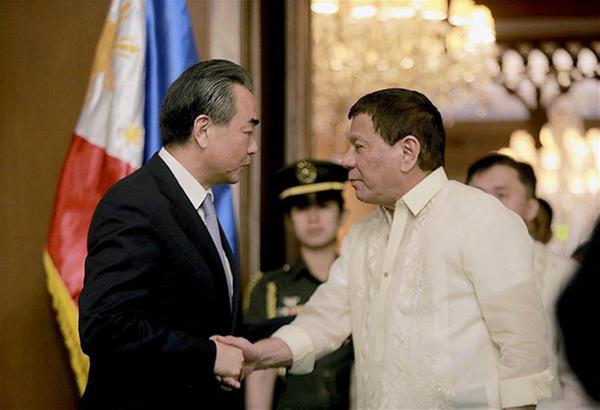 Visiting Chinese Foreign Minister Wang Yi (Front L) meets with Philippine President Rodrigo Duterte (Front R) in Manila, the Philippines, on July 25, 2017. [Photo/Xinhua]
MANILA - Philippine President Rodrigo Duterte pledged on Tuesday that his country is to build stronger bilateral relations with China.
"The Philippines attaches great importance to China's status and influence in the world, and is willing to build stronger relations with China," Duterte said in his meeting with visiting Chinese Foreign Minister Wang Yi.
Duterte said the Philippines highly appreciates the support China extends to his country and the role China plays in his country's nation building, especially China's support to combat terrorism.
Duterte expressed his satisfaction with the development of the bilateral ties between the two countries, saying the Philippines is willing to deepen cooperation with China in all sectors so as to benefit the two countries and their peoples.
Wang reiterated that China unswervingly supports Philippine's independent foreign policy.
Wang recalled that bilateral relations between China and the Philippines have fully improved under the guidance of the leaders of the two countries, saying improvement in relations has brought tangible benefits to the two peoples.
"Facts speak louder. For neighbors, dialogue is better than confrontation, cooperation is better than friction. History will show that we have made a right choice," Wang said.