451st traditional jumps from Old Bridge held in BiH
Xinhua | Updated: 2017-07-31 09:17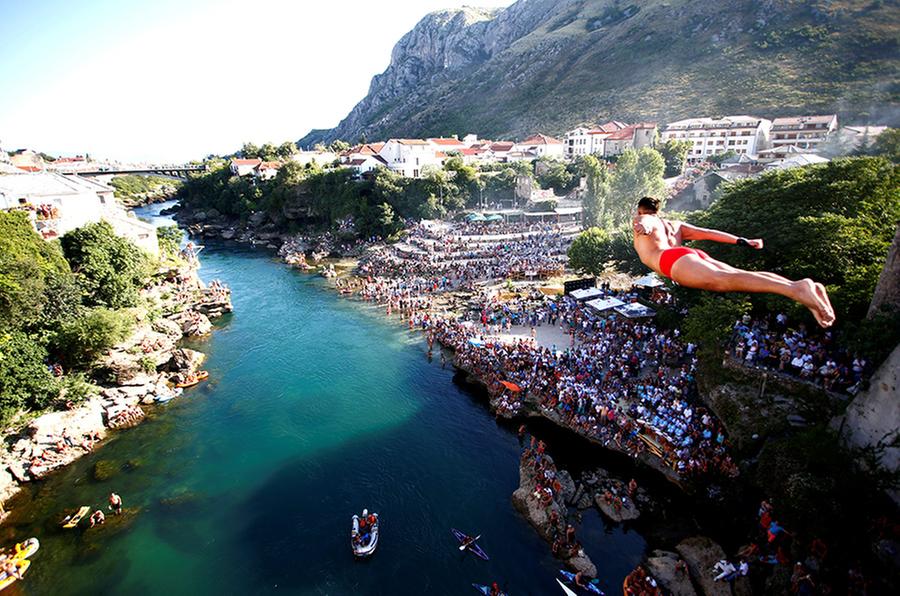 A man jumps from the Old Bridge during 450th traditional diving competition in Mostar, Bosnia and Herzegovina, July 31, 2016. [Photo/Agencies]
SARAJEVO - Traditional jumps from the Old Bridge in Mostar, a city some 120 kilometers south of BiH's capital Sarajevo, were held on Sunday late afternoon for the 451st time.
From the Old Bridge, the UNESCO monument, 41 jumpers jumped in two disciplines: on head and on legs. By the judges' decision, Mostar born Lorens Listo and Igor Kazic won the traditional jumps. The best jump on the head was won by Lorens Listo 11th time in a row, while Igor Kazic won in the jumps on legs.
For the first jump, Listo got 48 points, for second one maximum 50 points, while Kazic won maximum 50 points for both jumps.
Contestants from Balkan and other countries of Europe competed, 25 in the discipline of jumping on head and 16 in jumping on legs.
Listo won 11th year in a row and said that the competition was very strong this year since contestants have years of experience.
"The feeling is as phenomenal as it is every time, but today it was the hardest jump for me. After the first series I was the second one, which gave me extra pressure, but the luck follows the brave ones," Listo said after the victory.
On Sunday afternoon, Mostar measured 36 degrees Celsius and was the warmest city in BiH, the Federal Hydrometeorological Institute of BiH said.
Some thousand tourists and residents of BiH were watching the jumps below the Old Bridge. Since 1968, the 451 years long tradition is for Mostar's young men to jump from the Old Bridge in the cold Neretva River.