Charlottesville mayhem underscores growing US white supremacy movement
Xinhua | Updated: 2017-08-15 09:07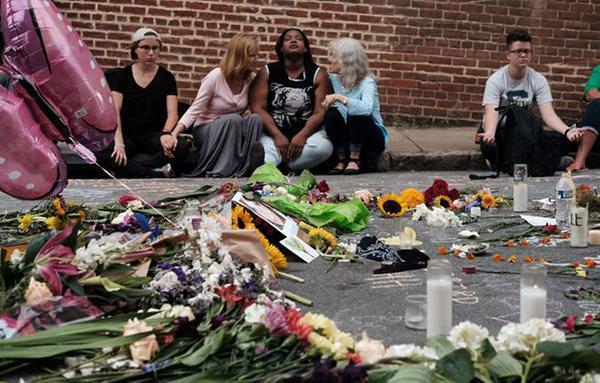 Women sit by an impromptu memorial of flowers commemorating the victims at the scene of the car attack on a group of counter-protesters during the "Unite the Right" rally as people continue to react to the weekend violence in Charlottesville, Virginia, August 14, 2017. [Photo/Agencies]
WASHINGTON - The United States is reeling after one woman died and several people were injured during the weekend's clashes between white power protesters and counter demonstrators. Experts fear such incidents could increase amid a recent jump in the number of white supremacy groups.
On Saturday, in the city of Charlottesville, Virginia, reports depicted a violent scene, in which white supremacists - and those demonstrating against them - threw fists, wielded sticks and shields and left each other bruised, bloodied and battered.
Suddenly and without warning, in the middle of the chaos, a driver plowed his car through a group of counter demonstrators, sending bodies flying into mid-air, killing one 32 year-old woman and wounding nearly two dozen more.
The weekend's violence underscores a growing white supremacy movement in the United States. While such groups remain on the fringe, some experts fear their numbers could grow.
"What happened in Charlottesville is the toxic outcome of a growing neo-Nazi, white nationalist movement that has felt emboldened partially by some of President Trump' s statements," Dan Mahaffee, senior vice president and director of policy at the Center for the Study of Congress and the Presidency, told Xinhua.
"And more significantly (the groups have been spurred on) by the growth of right wing movements that have found an echo chamber in which to grow and flourish on the Internet," Mahaffee said.
The liberal Southern Poverty Law Center, which keeps tabs on hate groups, said in a report published earlier this year that the number of US-based hate groups operating in 2016 rose to 917 - up from 892 in 2015, although the list included all hate groups, including anti-white hate groups comprising African Americans. The number is 101 shy of the all-time record set in 2011, but high by historic standards, the group said.
The organization said the radical right has been energized by US President Donald Trump. Some on the radical right perceive Trump to be on their side, on comments he made during his campaign, in which he compared Mexican illegal immigrants to rapists during a speech in which he promised to stem the massive tide of illegal immigration into the United States.
Trump was blasted over the weekend for what critics said was dragging his feet on condemning white hate groups such as the KKK and Neo Nazis, although on Monday Trump spoke from the White House on the issue, calling racism "evil" and lambasting Neo Nazis and KKK members as "criminals and thugs."
Chapters of the KKK - a racist, white power group that was once powerful in the American South but has lost much of its former influence -- grew from 72 in 2014 to 190 last year. The group was invigorated by the 364 pro-Confederate battle flag rallies that took place after South Carolina took down the flag from its Capitol grounds following the 2015 massacre of nine black churchgoers by a white supremacist flag enthusiast in Charleston, South Carolina, according to the Southern Poverty Law Center.
Speaking of the weekend's protests, Mahaffee said: "Combined with other right wing militia movements, in the case of Charlottesville, they were better armed and better organized than the police," Mahaffee said.
Indeed, media reports said police failed to form a barricade between the two groups, which is standard police procedure in such cases, and seemed to be overwhelmed by the chaos.
"What is most concerning about Charlottesville is that at least one member appears to have adopted the car attack tactics that were utilized by ISIS, and the concern is that this will inspire copycats who want to carry out further acts of domestic terrorism," Mahaffee said, referring to a common method attack used by an Islamist terror group.