Spanish King and Queen attend mass for Barcelona terror victims
Xinhua | Updated: 2017-08-21 08:58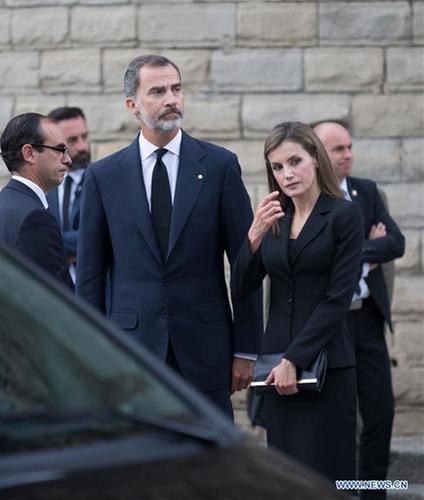 Spain's King Felipe VI (L) and Queen Letizia arrive at the Sagrada Familia to attend a mass to commemorate victims of two devastating terror attacks in Barcelona, Spain, on Aug 20, 2017. [Photo/Xinhua]
He also read a message from Pope Francisco, which said it was a "grave sin" to attack "against the lives of people who are the same as you, innocent people and children," while asking for heart to be "filled with fraternity, mercy and peace."
Meanwhile the Barcelona City Hall and Catalan Regional Government announced that on Aug. 26, there will be a march through Barcelona to show the city's rejection of terrorism.
The march will be under the banner "No tinc por" (I am not afraid), which is the phrase chanted during Friday's homage to the victims of the attacks held in Plaza Catalunya.
The march will start at 18.00 hours in the Jardines de Gracia in the north of the city and make its way along Paseo de Gracia towards Plaza Catalunya.