Government agencies face building curbs
By Hu Yongqi | China Daily | Updated: 2017-08-22 07:29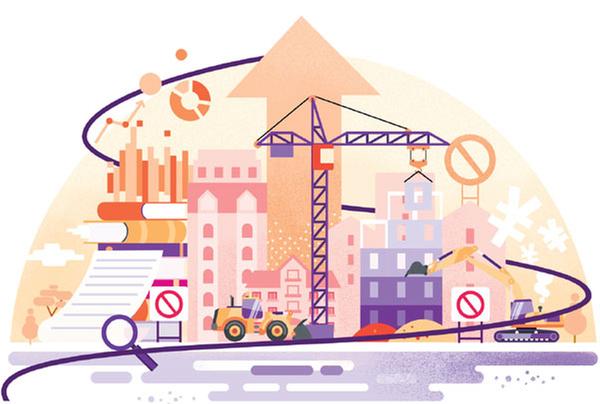 Money that would have been spent on construction will go to boosting public welfare
More public funds will be invested in improving people's lives as the central government approved a new draft regulation on Friday that controls expenditure for new buildings for government agencies, public organizations and institutions.
The draft regulation was approved at a State Council executive meeting, which was presided over by Premier Li Keqiang.
To improve the government's work style and achieve cleaner governance, the new regulation aims to set up a mechanism for curtailing the number of new buildings, or their upgrade, for agencies and organizations paid for by fiscal funds, a statement released after the meeting said.
The regulation sets ceilings upon constructing, purchasing, enlarging and reconstructing office buildings by government agencies, public organizations and institutions. No venues and facilities that can receive guests will be built, including training centers and other reception venues or facilities. No more offices will be erected solely to accommodate equipment.
Public institutions and State-owned enterprises, which are subsidized by fiscal funds, will be curtailed from constructing buildings without proving demand, the document said.
Approvals and fund management will also be curbed in this field. All funds must come from approved budgets, and there will be no tolerance for those who embezzle special-purpose funds, raise money from staff members or pay the expenditure through bank loans and other channels.
The regulation also sets standards for information disclosure and supervision. It requires that information about construction should be disclosed to the public. Any violation of the regulation must be corrected and officials in charge will be punished.
The regulation is the latest move by the central government to curb expenditure on office buildings, following Li's promise to cut governmental budgets for new buildings four years ago.
When meeting with the media in March 2013, the premier promised not to erect new governmental buildings during his term over the next five years. "The central government will take the lead while each level of government will follow," he said.
Four months later, the General Office of the Central Committee of the Communist Party of China and the General Office of the State Council jointly released a notice to curb construction for government agencies and public institutions.
"Precious fiscal funds should be used more in economic development and improving people's lives. The government must tighten its belt," the premier said at Friday's meeting, pointing out that money could be better used on boosting the public welfare.
The new regulation reiterates the importance of controlling unnecessary construction projects and clarifies the punishment for violators, which will lessen the opportunity for corruption, said Jia Xijin, associate professor of public management at Tsinghua University.
Since the 18th Party Congress in 2012, the central government has spotlighted the task to manage building new governmental offices, said Zhu Lijia, a professor of public management at the Chinese Academy of Governance.
However, some of the old regulations are outdated and not detailed enough to adapt to new conditions anymore, said Zhu. The drafted regulation was approved by a high-level meeting at the State Council, showing the importance the central government has attached to this area, he said.
"I expect the document to restrict impetuous moves by local governments to carry out infrastructure projects and office buildings in a fully normalized and consistent manner," Zhu added.
Friday's regulation was also welcomed by local government officials, including He Yongchun in Lijiang in Southwest China's Yunnan province.
He, who works for the Laojun Mountain National Park Management Bureau, said local governments have limited budgets as fiscal revenues have been squeezed amid slower growth.
"There are still millions of people living under the poverty line in many areas in western and central China.
"To develop local economies and improve their living conditions, governmental budgets should be spent in correct areas and ways, instead of erecting office buildings," He said.
huyongqi@chinadaily.com.cn