Social workers to help left-behind kids
By Zhao Xinying | China Daily | Updated: 2017-08-22 07:28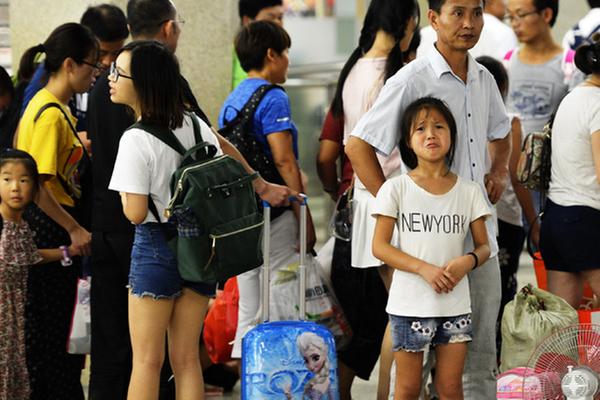 A girl tries not to cry at Hankou Railway Station in Wuhan, Hubei province, as she prepares to return home on Sunday. As summer vacation comes to an end, many children of migrant workers who traveled to big cities to spend time with their parents must say goodbye. [Photo by Jin Zhenqiang/China Daily]
Social workers should make timely reports to authorities if they find or suspect a left-behind child is falling victim to domestic violence or another form of abuse, according to a series of guidelines released on Monday.
The guidelines, issued by five departments - including the Ministry of Civil Affairs, the Ministry of Education and the Communist Youth League Central Committee - said professionals are becoming forces in caring for and protecting left-behind children in rural areas, and are playing a positive role in helping the children develop.
"Social workers are encouraged to provide assistance in caring for and protecting left-behind children, including conducting home visits, surveys and evaluations," the guidelines say. Surveys should be designed to help children by coming to know family members, who is caring for them, whether they have attended school and their physical and mental health.
Left-behind children refers to rural children under 16 years of age whose parents are migrant workers or who have one migrant worker parent and another who is incapable of guardianship.
Surveys by the ministries of civil affairs, education and public security show that China has about 9 million left-behind children, a majority living in central and western parts of the country.
Most left-behind children have been found under the guardianship of elderly, less-educated grandparents. About 4 percent had no guardian at all.
The absence of parents during a child's growth years is believed to have resulted in mental problems, as well as some incidents in which children have been severely injured or have killed themselves.
To prevent such tragedies, the State Council issued a document in February last year, calling on families, governments, schools and social workers to create a system to support left-behind children.
Under the guidelines released on Monday, social workers can participate in providing education for children's families to improve awareness of the law and prevent domestic violence.
Xinhua contributed to this story.