University to abolish mixed-gender dorm policy
By Ma Chi | chinadaily.com.cn | Updated: 2017-08-24 14:50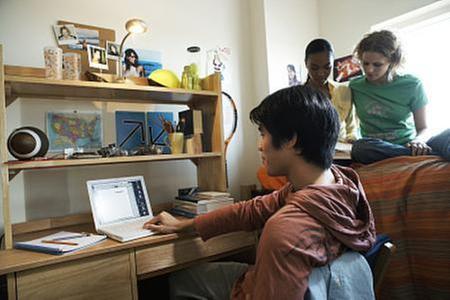 A university in South China's Guangzhou city recently decided to remove its mixed-gender dorm arrangement, but not all students have welcomed the move.
The Southern Medical University will phase out in the next few years the mixed-gender accommodation rule, which allows male and female students from different majors to live on same floors of the dorm building, according to a report of the Beijing News on Thursday.
The university is reportedly carrying out the rearrangement due to the need to maintain old buildings and management purposes.
The practice of mixed-gender accommodation has been in place in the school for more than a decade, and became somewhat a magnet for new students, said a report of Guangzhou-based Yangcheng Evening News on Tuesday. In most of China's higher education institutions, male and female students live in separate buildings.
The school said that male and female students have different lifestyles, and the cancelling of the mixed-gender arrangement is to prevent noise made by male students playing video games late into the night from disturbing female students and also to provide more privacy to female students who want to open their doors for fresh air in summer months, according to the report.
The decision drew mixed responses.
A poll launched by students of the school suggested 82 percent of the 6,693 respondents do not want the mixed-gender arrangement to be abolished.
Wang, a student at the university's nursing school, said she supports the mixed-gender policy, adding that male and female students are not opposite and, instead, can be helpful to each other.
Wang said in her dorm building female students seek help from male students when there is little bug in their rooms and the male students also help their female counterparts carry heavy stuff upstairs; in return, the female students share their self-made summer drinks with the boys. And both sides pay more attention to hygiene because of the existence of the opposite sex.
A student's mother, surnamed Huang, supported the decision of the school, saying that college students are still young and may not be able to handle the potential consequences.
Xiong Bingqi, an education expert with the 21st Century Education Research Institute, said that higher education institutions should create a diversified environment for students, and he labeled the cancelling of mixed-gender policy of the Southern Medical University as "retrogressive".
Mixed-gender policy arrangement is nothing new in some foreign countries.
According to reports, some universities in the US began allowing male and female students to live in the same buildings in the 1970s. In 2016, the George Washington University even gave permission to male and female students to live in same rooms.
In Hong Kong, schools including the University of Hong Kong and Hong Kong Baptist University have also introduced the mixed-gender dorm arrangement.