Retiree's recycling drive keeps children in school
By Zhu Lixin in Hefei | China Daily | Updated: 2017-08-24 07:33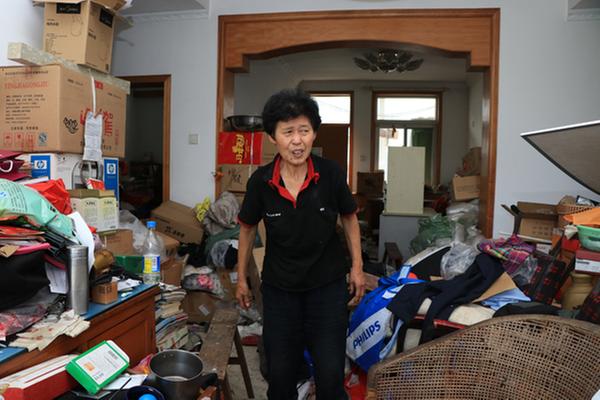 Zhang Jinglan at her home, which is packed with garbage she has collected, in Hefei, Anhui province. [Photo by Zhu Lixin/China Daily]
Funds raised support students from disadvantaged families in Anhui
A retired Anhui official's recycling efforts have helped to keep hundreds of poor children from dropping out of school.
Zhang Jinglan, 69, spends less than three hours sleeping each day and the rest of her time recycling garbage in a digital products mall in Hefei, Anhui province.
For years, Zhang has been helping young students, whose families are experiencing financial difficulties, using her pension, of about 4,000 yuan ($600) a month, and money earned from recycling.
Wearing clothes found in trash cans, Zhang's current occupation seems far removed from her former position as the labor union chairwoman of the Anhui Provincial People's Congress.
A Party member who retired in 2008, she started recycling garbage long before her retirement.
Zhang, who is not married and does not have children, had a tough childhood. "My father died when I was 6, and my mother and I were not be able to make ends meet without help from other people and the government."
Living alone in an apartment building in Wuhulu community in the city's Baohe district, Zhang started recycling garbage secretly at first.
"The neighbors objected as they did not know what was behind my door," said Zhang, adding that she didn't want to cause any trouble for the provincial congress.
"I went out to collect recyclable garbage at around 7 pm to 8 pm every day, when I thought the neighbors would be at home watching TV," Zhang said.
She returned home with the trash at midnight, when most of the residents were asleep. She had to get up at about 5:30 am to sell the sorted garbage, so that she could avoid bumping into any neighbors.
Her behavior failed to go unnoticed and her neighbors eventually persuaded her to stop sorting rubbish in her home.
"I had to go to places much farther away, which would cost me four yuan by bus," Zhang said.
She walked to her destinations rather than take the bus to save money. As a result, she had to spend more time traveling and less time sleeping. "I save money not for myself, but for the children who need my help," she said.
After her retirement, Zhang was finally able to focus on the recycling full time.
About two years ago, executives at a digital products mall heard about Zhang's good deeds and allowed her to stay in the mall to collect garbage.
The mall also placed a donation box in its service center to raise money from staff members and customers in Zhang's name, as she is the only person allowed to take money from it.
Zhang has helped nearly 300 students using her own money. Hundreds more students have been helped with money from other people and businesses who have responded to Zhang's call.
The students Zhang helps receive at least 500 yuan a year, and help for some has lasted from their primary school years to their college graduation.
Zhang has recently started helping the children of criminals who are serving sentences in a local prison.
"The children's fathers are in prison and the mothers often can't take good care of them," said Zhang, who is planning to give 1,000 yuan and some gifts to each of the 10 poorest children.
zhulixin@chinadaily.com.cn