Cultural tourism brings renowned dancing village a step nearer wealth
By Hou Liqiang and Yang Jun | China Daily | Updated: 2017-08-24 07:33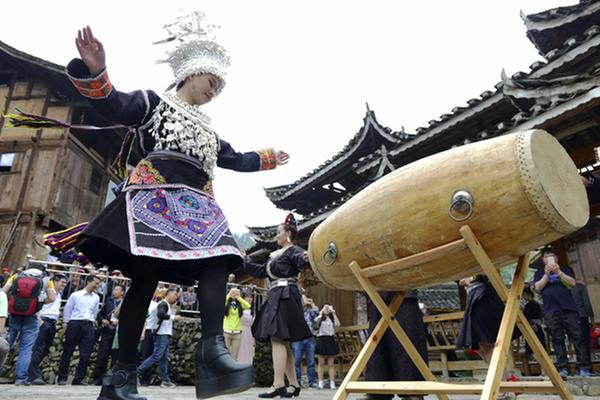 A tourist dresses in Miao traditional costume as she learns muguwu in Fanpai village, Guizhou province. Muguwu was listed as a national cultural heritage in 2006. [Photo by Yang Wenbin/Xinhua]
Performances of traditional music and dancing are helping to raise living standards in an isolated settlement, as Hou Liqiang and Yang Jun report from Fanpai, Guizhou province.
Things are peaceful at night in Fanpai village. The only sounds are the babbling of water in the stream and the occasional bark of a dog. There are no streetlamps, so only moonlight and the ambient glow from a few homes illuminate the settlement in Taijiang county, Guizhou province.
Only one small corner of the village provides a contrast, the cultural center, where groups of residents often gather for discussions that often last until long after midnight.
Nobody can remember exactly how many discussions have been held, but the topic is always the same: finding a proper development mode for the village, which is famed for its cultural heritage but is mired in poverty.
Since the 1990s, Fanpai has been renowned for its rich cultural heritage, including muguwu, literally "wooden drum dance" after the mugu drum, together with multivoiced love songs. They are listed as national cultural heritage. The dance, which records the migratory history of the local Miao ethnic group, has been performed for tourists domestically and overseas, according to Wan Dexue, Fanpai's former Party chief.
Fame has failed to bring major changes to the village. Most of the young people have left to work in big cities, and if the China Foundation for Poverty Alleviation had not arrived in 2013 to help the development of tourism, the village would have vanished, he said.
According to the village committee, 115 of Fanpai's 2,009 residents live below the national poverty line, which was 2,952 yuan ($443) last year.
With 10 million yuan donated by China Minsheng Bank Corp in 2013, the foundation launched a project to help eradicate poverty by developing local tourism. A tourism cooperative was established in 2014, and each of the 20 groups to which residents belong can elect one or two representatives to be members of the cooperative's council, according to Wan, who is director of the council.
The foundation covers the council's operating costs and all profits are distributed among the villagers.
It's not unusual to see outsiders controlling the tourist industry in many ancient villages. However, those responsible for Fanpai's development are determined to allow the villagers to be the dominant force in tourism development to ensure the local culture is preserved.
When the foundation invited Liu Zhaofeng, head planner of Guizhou Architectural Design and Research Institute Co, to design plans for Fanpai, he initially refused because he thought a village as well-known as Fanpai would be too commercialized. Liu had visions of other renowned settlements, which are littered with traditional buildings damaged by poorly designed upgrades.
"However, when I arrived in the village, I discovered I was wrong. Though famous, it hasn't been developed much," he said.