Guidelines aim for safer wildlife parks
By Zhao Xinying | China Daily | Updated: 2017-08-25 08:54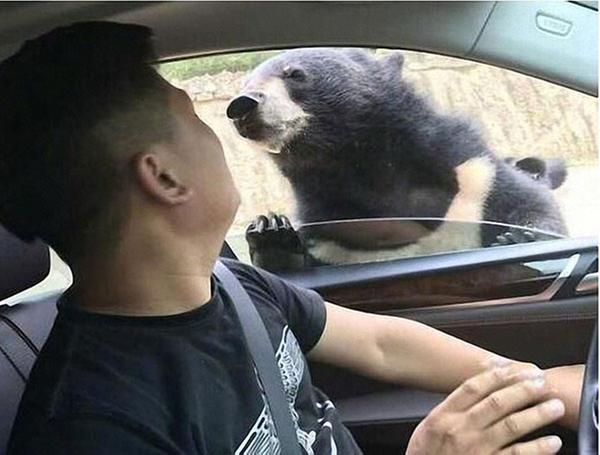 A man rolls down his car window to feed a black bear in the Badaling Wildlife Park in Beijing on Aug 18, ignoring rules and warnings from staff members. He was bitten by the bear.[Photo provided to China Daily]
Wildlife parks should have roads that allow visitors to drive their own vehicles and avoid contact with wild animals, according to a series of draft guidelines to protect tourists in Beijing's wildlife parks.
"The roads should be built with nets or glass walls to ensure that tourists' vehicles avoid contact with wild animals," said the draft guidelines, which were released by the Beijing municipal Administration of Quality and Technology Supervision for public comment.
The guidelines also stipulate that tourists should not get out of their vehicles, and they should leave sightseeing areas before the time required by the parks.
"Animals should be divided into different areas, with fences, electrified nets or solid walls erected to separate tourists from animals," the guidelines said. "Parks must fully inform tourists of the possible dangers and safety measures by setting up billboards or warning signs."
Before the draft guidelines were released, a number of incidents of tourists being injured or killed by animals in wildlife parks made the headlines, triggering discussions on how to raise awareness of safety and find better ways to protect tourists.
In July last year, two female tourists left their car in Beijing's Badaling Wildlife Park. One was killed by a Siberian tiger and the other was seriously injured.
On Aug 18, a male tourist in the park was bitten on the arm by a black bear after he ignored warnings from staff members and rolled down his car window to feed the animals.
Xie Yan, a researcher at the Institute of Zoology of the Chinese Academy of Sciences, said most wildlife parks in China do not represent a purely wild state, and the frequent reports of incidents arise from tourists' behavior.
"The act of feeding animals definitely adds to the possibility of tourists being attacked," she said, adding that one of the best ways to reduce such incidents is to eliminate contact between animals and tourists.
The draft guidelines were seen as an effort in that direction. They also said animals in parks should be graded on the basis of their ferocity and that some should be kept in cages.
In areas where ferocious animals are kept, there should be staff members on duty 24 hours a day, with patrols every two hours, to find and report dangerous situations, the guidelines said.