PATIENTS USE POSITIVE MENTAL ATTITUDE TO BEAT CANCER
By Wang Zhenghua | CHINA DAILY | Updated: 2017-08-28 07:04
A support group in East China is encouraging people with the illness to embrace life and reject despair, as Wang Zhenghua reports from Shanghai.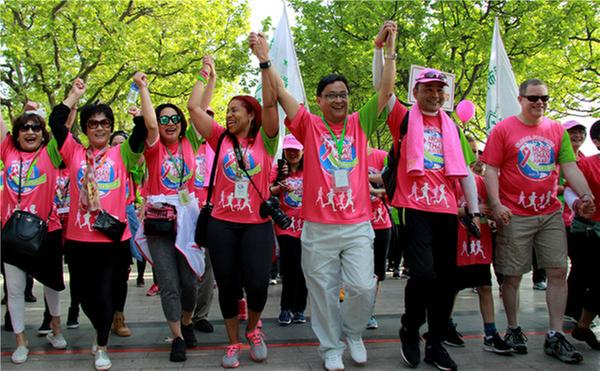 Yuan Zhengping (third from right) and members of the Shanghai Cancer Recovery Club join a charity run to collect donations for breast cancer patients. WU XIAOYAN/FOR CHINA DAILY
Aug 8 was a red letter day for a group of cancer patients from across China because they were registering to become members of a special audience at the 2022 Winter Olympics in Beijing.
The patients-many of whom have been told that they only have a few years or even months to live-were encouraged to save 5 yuan (75 cents) a day to buy tickets for the Games and, more important, to survive another five years so they will be able to attend the event. Their number mushroomed to more than 7,000 in just two days.
Started by the Shanghai Cancer Recovery Club, the program serves as a driving force to boost patients' hope and resilience, and also provides support from their peers.
The activities organized by the club help members to understand that, in addition to the correct medical treatment, a positive mindset and a healthy lifestyle are crucial to recovery.
"We offer on-the-ground emotional and psychological support to people with cancer, and encourage them to fight the illness together," said Yuan Zhengping, the club's founder. "No one can fight cancer alone."
Rather than succumbing to depression and despair, members are taught to sing and dance, and encouraged to attend life-affirming events, such as sporting contests.
In 2013, 3,682,000 Chinese were diagnosed with the illness, a rate of about 10,000 new patients every day, and 2,229,300-slightly less than the population of Paris-died from the disease, according to a 2015 report published by the National Cancer Institute.
While the response to being diagnosed with cancer varies significantly from person to person, most people are shocked and confused by the sudden change in their life and medical status.
Some seek the best medical services available, while others recognize the unpredictability of the situation and spend the rest of their lives engaged in new activities, such as traveling. In extreme cases, people feel such despair that they take their own lives.
The Shanghai Cancer Recovery Club encourages patients to approach the illness with optimism and instill hope in their peers.
According to Yuan, the five-year survival rate of the club's members is 75 percent, far higher than the national average of about 31 percent.