Learning to love life again, one step at a time
By Dara Wang | China Daily | Updated: 2017-08-31 08:44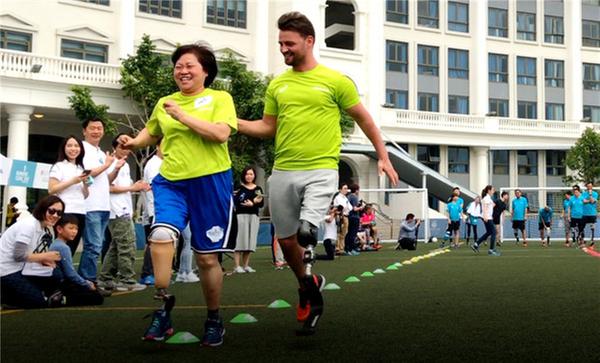 Heinrich Popow, a Paralympic gold medalist from Germany, runs with Irene Yu Kuk-ying, who lost a leg in an accident at age 18. [Photo/CHINA DAILY]
Running has given a group of amputees a renewed sense of purpose, as Dara Wang reports from Hong Kong.
Irene Yu Kuk-ying, 59, has become an inspiration to many people as a result of her determination to overcome an accident that changed her life forever.
Yu lost her right leg when she was 18 and just starting at college. Today, she can run again. It may be just 200 meters a day, but that's OK as long as she completes her task.
Every day, she shares her photos on social media, earning herself 2,400 fans on Facebook. Her followers praise her as outgoing, resilient and cheerful.
Yu started running again in February, decades after the incident that claimed her leg one Valentine's Day, when she was scheduled to register at Guangxi University in Nanning, the capital of the Guangxi Zhuang autonomous region in South China.
However, admissions had been postponed until the next day, so she strolled around the campus, thinking about the future and wondering what college life would be like.