Travel getting easier-just ask the robots
By LUO WANGSHU | China Daily | Updated: 2017-08-31 08:54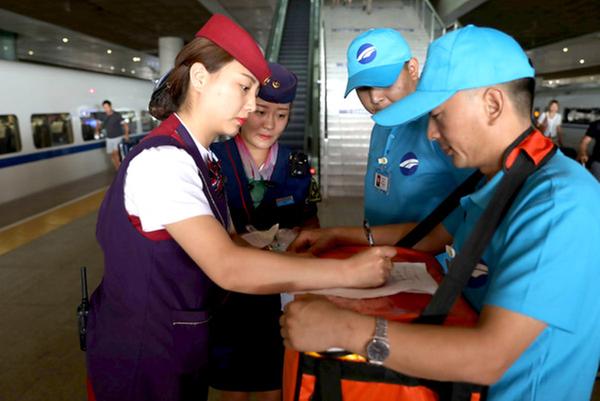 Food couriers hand meals-which were ordered in advance-to railway attendants who will take them to passengers in their seats. The service has been available since July 17 at 27 major stations. [Photo/ZHANG XIN/CHINA DAILY]
A host of new services and facilities are expected to make railway passengers' experience more pleasant.
Products and services have been upgraded to benefit passengers, including online ticket purchasing, mobile payments, facial recognition for entering a station, easier transfers and onboard food ordering. All aim to satisfy diverse needs, according to China Railway Corp.
Robots have also been added to several large stations to answer passengers' questions and provide entertainment.
"When passengers have questions about how to buy tickets, how to change a date or find restaurants or a nearby parking lot, robots can provide the answers," said Li Yang, a staff member at Jinan West Railway Station in Shandong province.
The robots are amusing, too. "It's not so boring" to wait for trains anymore, Li said.
The latest move-allowing passengers on some bullet trains to order food online from restaurants and have it delivered to their seats-started on July 17.
The China Railway Corp ticket booking website and app allow users who intend to pass through selected stations to preorder meals, either from the train's catering service or from partner businesses, such as KFC.
Initially, the service will be available at 27 high-speed rail stations in 24 cities, mainly provincial capitals and major metropolises, including Shanghai, Tianjin, Zhengzhou, Guangzhou and Nanjing.
Liu Kun took a bullet train from Beijing to Qingdao and ordered KFC in advance when booking her ticket. The food was scheduled for delivery at Jinan West Railway Station.
"My food was delivered to my seat as soon as the train left Jinan. It was so convenient and the price is about the same as at KFC stores," Liu said.
According to CRC, the move aims to meet the diverse and individualized demands of passengers by introducing more brands and restaurants, diversifying meal choices and providing richer services.
New technology also enriches passengers' travel experiences. At Lanzhou West train station in Lanzhou, Gansu province, a facial recognition system was installed in May to allow passengers to pass the security check more efficiently," said Wang Jian, the station head.
A facial recognition system can speed up verification of passenger identity, which was done before by train station staff members checking train tickets and ID cards. Now, passengers scan their tickets and ID cards at the facial recognition machine. When passengers make the scan, a camera installed in the machine will capture facial images. If the image matches the ID card and ticket, the gate will open automatically to allow entry.
Several large train stations have launched facial recognition systems, including Guangzhou, Beijing and Changsha. Beijing West Railway Station was among the first to have it. A passenger surnamed Zhang experienced the facial recognition there in December when it was first launched.
"It was fun to go through the gate using the facial recognition system. But it sometimes slows things down at the checkpoint because passengers are not familiar with the new technique," Zhang said, adding that she prefers the facial recognition system when not in a hurry.