Xiaomi sees big prospects in global market
By Ouyang Shijia | China Daily | Updated: 2017-09-07 07:24
After bouncing back this year following setbacks amid competition from local rivals, Chinese technology giant Xiaomi Corp is now gearing up to gain strongholds in international smartphone markets.
Xiaomi announced on Tuesday in India that it has teamed up with Google Inc on the launch of the new Mi A1 smartphone to beef up its appeal in the international market.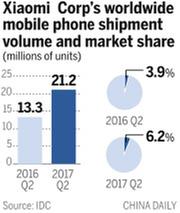 Priced at 14,999 rupees ($234), Xiaomi's dual-camera Mi A1 smartphone will run on Google's Android One operating system, which will be its first device not employing the firm's MIUI system.
The Beijing-based smartphone vendor said the new gadget will be available in India as well as in more than 40 markets around the world including Indonesia, Vietnam, Russia, Poland and Mexico, aiming to cater to users more familiar with Google services.
Wang Xiang, senior vice-president of Xiaomi, said the Mi A1 is a strategic device in Xiaomi's global expansion and it is also a logical extension of Xiaomi's long partnership with Google.
"Google has been a great partner, and given our strong collaboration, we thought its idea to launch a Xiaomi smartphone on Android One would be a great opportunity to give our users a different experience," Wang added.
As smartphone sales in China reach saturation point, fast-growing international markets are of huge strategic importance to Chinese smartphone vendors.
Taking global expansion as a key strategy, Xiaomi has made a comeback to regain its fifth place around the world in the second quarter of this year, according to a worldwide quarterly report by research firm IDC. The report said Xiaomi's shipment volume reached 21.2 million units in the second quarter, with year-on-year growth of more than 50 percent.
Jia Mo, a research analyst at global consultancy Canalys, said Xiaomi is enhancing its efforts to expand globally, and the partnership with Google will help it cover more consumers across the world.
"With the help of Google, Xiaomi will gain strengths in entering new markets and attracting more users. And Google will definitely support Xiaomi to expand the Android One program's strategic influence."
"As the Android One was set to sell affordable devices with good quality software in collaboration with hardware vendors, Xiaomi will arrange part of the low-end and mid-range smartphones to use the Android One system, while its high-end products will still operate MIUI," Jia added.