Telescope to unlock secrets of universe
By Ma Si | China Daily | Updated: 2017-09-07 08:13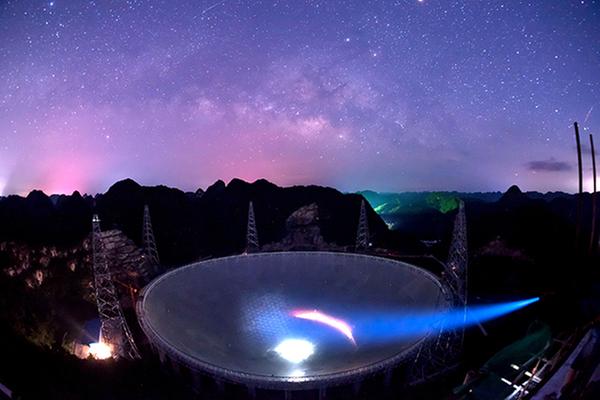 The 500-meter Aperture Spherical Telescope. [Photo provided to China Daily]
Many people have an inner desire to peer into space and seek for origins of the universe. But few are as talented and lucky as Li Di, who gets to fulfill that desire as deputy chief engineer of the world's largest 'ear' for listening to signals from the cosmos.
Li is working on China's gigantic 500-meter Aperture Spherical Telescope project, also known as FAST, which is the world's largest radio telescope.
Located in a valley deep in Southwest China's mountainous Guizhou province, FAST features a reflector as large as 30 soccer pitches. It is built to seek gravitational waves, detect radio emissions from stars and galaxies, and search for signs of intelligent extraterrestrial life.
"FAST is a once-in-a-life opportunity. I can't miss it," Li said in an interview with Science and Technology Daily. He decided to come back to China in 2012, despite his achievements in the United States, where he won the outstanding team award at the National Aeronautics and Space Administration, or NASA, for his contribution to the Herschel Space Observatory.
"The larger the telescope, the better it is. FAST is so huge but it also features high accuracy, which can help us see farther. The project is in line with my academic interests and technological background," Li said.
FAST is 500 meters in diameter and made up of 4,450 panels. It overtook Puerto Rico's Arecibo Observatory, which is 305 meters in diameter. It is 10 times more sensitive than the steerable 100-meter telescope near Bonn, Germany.
The project, with an investment of 1.2 billion yuan ($196 million), was completed in September 2016. It is under debug, a process that may take at least two to three years, in accordance with international practice.
To better listen for faint signals that other equipment can't pick up, including signature gravitational waves from magnetized stars that disturb radio signals, FAST is built in a karst cave far from cities to create a sound electromagnetic wave environment.
But the remote location has led to many troubles for Li and his peers. They spend about four months a year in mountains and have no choice but to live in a two-story prefabricated house, with no proper sanitation facilities.
Under such a harsh environment, the scientists, however, have managed to achieve an engineering breakthrough.
"How to ensure low loss when information is transmitted under dynamic conditions is a technology patented by the United States. We can't access it but rely on self-innovation," Li said.
Also, his team developed high-strength, anti-fatigue cables, far better than the normal industrial standards.
"All efforts are worthwhile. Once debugging is finished, FAST is expected to double the number of known pulsars (pulsating radio stars) in the world and tenfold the number of known galaxies in 10 to 20 years," Li said.
Even in the calibrating phase, tests have already pulled in data from a pulsar star 1,351 light-years away. "FAST will maintain the world leading position in 10 to 20 years in terms of the planned performance indicators," Li added.
Guizhou, where FAST is located, also plans to build an artificial intelligence-enabled computing center, to help process data from the radio telescope, said Liao Fei, head of Guizhou Provincial Science and Technology Department.