Too few online security talents
By Hou Liqiang and Cao Yin | China Daily | Updated: 2017-09-11 08:41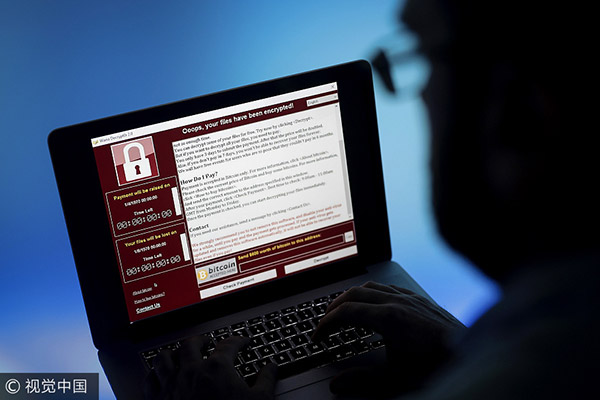 A lock screen from a cyber attack warns that data files have been encrypted on a laptop computer in this arranged photo in London, May 15, 2017. [Photo/VCG]
Cybersecurity talents are in short supply in China, and many employers have no choice but to lower their requirements and recruit people with little work experience to fill the gap, a report concludes.
Posts about cybersecurity published on Zhaopin.com, a leading recruitment website, increased from January to June by 232 percent year-on-year, according to the report published by Zhaopin and 360 Internet Security Center.
Work experience was not required for half the posts. On average, the expected salary of job seekers in the field stood at 7,533 yuan ($1,160) a month.
In stark contrast, the average salary employers offer is 25 percent higher, the report found.
Zhaopin didn't disclose the sample size for the report, calling it a business secret, but said the sample was large enough to ensure solid conclusions - the firm has 135 million users.
The difference between the low salary expectation and high offer suggests the supply of candidates is inadequate to meet the demand in the labor market for cybersecurity talents, said Wang Yixin, a senior Zhaopin consultant.
There are more than enough low-skilled candidates for basic posts, but the demand for the highskilled candidates exceeds the supply, she said.
Only 11 percent of cybersecurity job seekers have an education background in cybersecurity or information security - more majored in computer science, communication and information engineering and network engineering.
More than 70 percent of the job hunters are aged 25 to 34.
The shortage of cybersecurity talents will continue in China for some time, the report said.
Zhao Zeliang, director of the Cybersecurity Coordination Bureau at China's Cyberspace Administration, said cybersecurity talent education is urgent and important in the country.
"We can catch up with Western countries' pace of cybersecurity protection by buying their advanced technologies or products, but if we are short of talents, our following generations will be affected," he said.
He also said the administration has paid high attention to and taken measures in education for talents, considering its importance in cybersecurity protection.
Now the administration has joined hands with the Ministry of Education to set up an academic institute to cultivate cybersecurity talents, "hoping to improve our capabilities in cybersecurity protection and make our talents more competitive in the world," he said.