Pony Ma, scholars underline tech-driven growth
By Zhu Lingqing | chinadaily.com.cn | Updated: 2017-09-11 09:55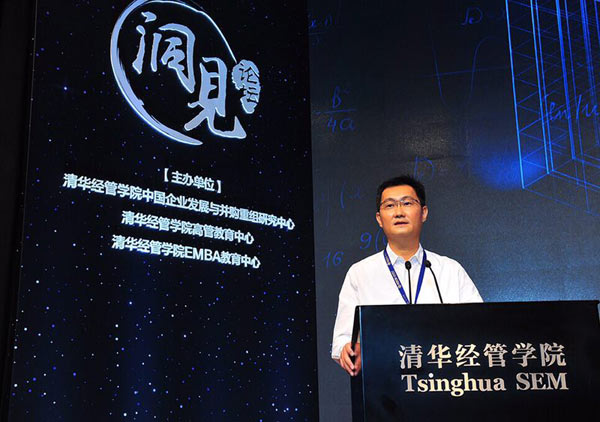 Tencent Chairman and CEO Pony Ma delivers a speech at a forum held at the Tsinghua University, Beijing, on Sept 8, 2017. [Photo provided to chinadaily.com.cn]
A Nobel laureate, a domestic tech tycoon and several top scholars of different disciplines gathered at a forum on the Tsinghua campus Friday, discussing how technology will drive industry development.
Tencent Chairman and CEO Pony Ma, who has led the tech company into the world's eighth most valuable brand this year, said the digitalization of traditional industries, along with the integration of information and industrialization, will be the future.
Ma said the basic form of all enterprises will be "using artificial intelligence (AI) to handle big data in the cloud. He made the predictive comment at the forum.
"While electricity consumption has been used as an indicator of an industrial society's development, cloud consumption will be an important indicator of digital economy's development in the future," Ma said.
"Tencent, mainly focusing on the businesses of social media, communication, digital content and financial services in the past, is willing to invest heavily on AI, cloud computing and big data."
Having witnessed how AI, a research field which used to be underrated, has become an investing hotspot since 2011, professor Tang Xiaoou, vice-president of Shenzhen Institutes of Advanced Technology, Chinese Academy of Sciences, introduced three application directions in which AI has achieved or is expected to achieve breakthroughs.
"The first breakthrough, voice recognition, has become relatively mature now; the second field, image recognition, is the industry's main battleground at present; the third one, natural language processing, is highly-focused and yet unsolved," he said.
Tang, who is also the co-founder of domestic AI startup SenseTime which harnesses Deep Learning as its core technology, said the company's technologies – such as human face recognition, text and character recognition, and human body recognition – have been commercially applied in the fields of security and surveillance, finance, smartphone and mobile internet.
Having cooperated with companies such as UnionPay, China Mobile, Huawei, Xiaomi, Sina Weibo and JD.com, the company received $410 million in its B round of financing in July, creating the world's highest record of single round financing in AI sector, according to a report by awtmt.com.
Tang said around half of the company's researchers were working on self-driving technologies at present.
Pony Ma, mentioning Tencent had also made investment intentions to Tang's company in the past, said Tencent would like to fully cooperate with a large range of companies and research institutions to develop the applications of cutting-edge technologies.
"Tencent, as a company, has a role to play as whether talents or technologies need to follow application scenarios and markets," he said.
"The tech giant has launched an AI medical image processing platform in August and has actively invested in companies far from its main businesses, such as a Tesla, a satellite company in Argentina and some bio-medicine companies."
In addition, Ma, as well as other speakers, are bullish the industrial-academic-research cooperation can better promote the transformation of scientific and technological achievements.
Brian K. Kobilka, a Nobel laureate in Chemistry who established a company 15 years ago, said he found business and research can promote each other.
Shou-Cheng Zhang, a Chinese-American physicist at Stanford University, said the development of science needed the support of investment and that is why he set up an investment company.
"I have not been involved in any businesses yet, but I might," neurobiologist Rao Yi, dean of Peking University's School of Life Sciences, said, adding he would only devote himself to a business that is important, elegant, unique and of real demand.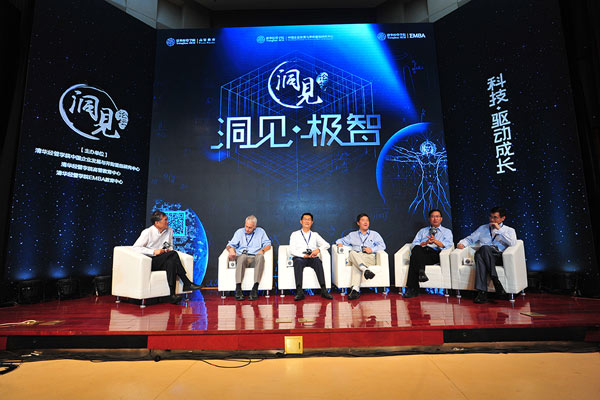 Tencent Chairman and CEO Pony Ma (3rd left) and scholars discuss tech-driven growth at a forum held at the Tsinghua University, Beijing, on Sept 8, 2017. [Photo provided to chinadaily.com.cn]
Students of the Tsinghua-Qingteng Future Science and Technology School, an education project established by Tsinghua SME and Tencent in April, which focuses on training entrepreneurs of tech-driven businesses including AI, life sciences and new materials, attended the forum.
Mobike founder Hu Weiwei and Quora-like Zhihu founder Zhou Yuan are among the first 48 entrepreneurs with an 89-billion-yuan valuation of businesses in total selected to the project.
The forum, initiated by Research Center for Enterprise M&A and Development, Tsinghua SME, was co-held by the Center for Executive Education and EMBA Programme of the school.