Xiaomi unveils new phone prior to iPhone 8
By Song Jingli | chinadaily.com.cn | Updated: 2017-09-11 18:11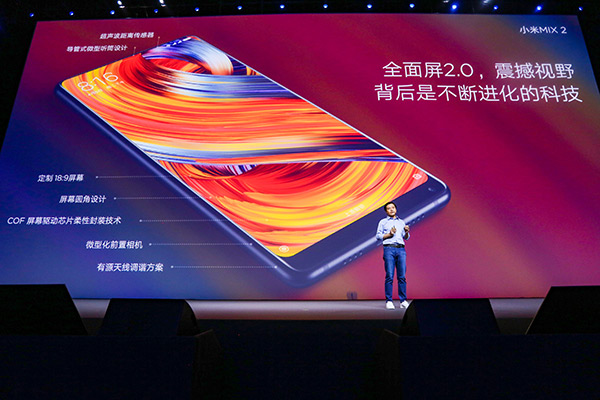 Lei Jun, founder of smartphone maker Xiaomi, presents an updated version of the company's "concept smartphone" Mi Mix, the Mi Mix 2, in Beijing on Sept 11, 2017.[Photo provided to chinadaily.com.cn]
Chinese tech company Xiaomi launched an updated version of its "concept smartphone" Mi Mix, the Mi Mix 2, on Monday, one day earlier than the planned release date of iPhone 8.
The Mi Mix 2, with a screen aspect ratio of 18:9 like its predecessor, runs on a Snapdragon 835 processor and has a 5.99-inch screen, whose display looks almost as large as the 5.55-inch iPhone 7 plus screen.
Xiaomi's founder Lei Jun said this visual effect is because of its bezel-free screen or "full screen" technology, which rocked the smartphone sector when it was announced Oct 25, 2016 on the Mi Mix.
He revealed that the breakthrough in the ratio from traditional 16:9 to 18:9 involved a lot of communication between Xiaomi and Google, which later confirmed the workability of this change, setting off a new trend of "bezel-free" screens in the smartphone sector. Samsung's S8 has a screen aspect ratio of 18.5: 9.
In addtion, the Mi Mix 2 also features a ceramic body, which Lei called "Unibody." Lei also said the whole phone is like a whole jade.
The new "flagship smartphone", in Lei's own words, rather than the previous "concept smartphone", is priced from 3,299 yuan ($506), which is 200 yuan lower than the starting price of Mi Mix, to 4,699 yuan, depending on specifications.
Jin Di, a research manager with IDC China, said what surprised her most were the prices.
Jin said that Xiaomi has been making progress in breaking established standards in engineering and designs in recent years. Jin revealed that in the breakdown data of IDC's quarterly smartphone global shipments for the past several quarters, Xiaomi's devices priced above 2,000 yuan have seen sales growth, but not a markable growth.
"I think the management capability of its supply chain has deterred sales growth in Xiaomi's high-end handsets," Jin said.
"We could never reserve manufactured smartphones for the so-called 'hungry marketing'", Lei said, adding that the Mi Mix 2 will be on sale Friday.
The Mi Mix won gold at the International Design Excellence Awards on Aug 20 and has been collected by the Design Museum in Finland as it represents the future of smartphones, Lei said.
He revealed that as of now, 12 smartphones including the iPhone 1 have won the IDEA award.
Whether these efforts pay off still needs to be seen in the sales data, Jin said.
Xiaomi also lauched the Mi Air Pro, a notebook for professionals, and the Mi Note 3, another flagship smartphone, on Monday.