COMAC nets 130 more orders for C919 jet
By Tan Xinyu | chinadaily.com.cn | Updated: 2017-09-19 16:27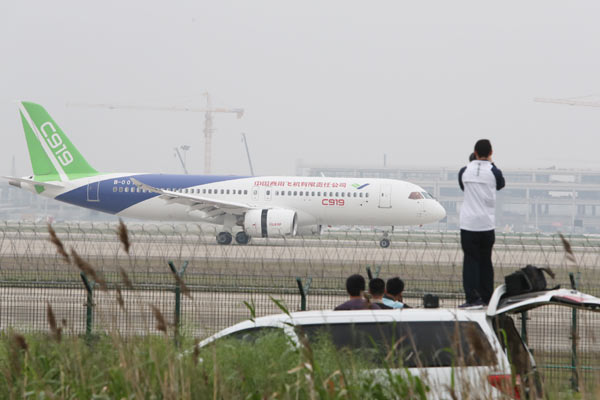 C919 lands safely at Shanghai Pudong International Airport after its maiden flight at around 3.20 pm, May 5, 2017. [Gao Erqiang/China Daily]
China's plane maker Commercial Aircraft Corporation of China (COMAC) signed 130 new orders for its C919 passenger jet with four Chinese leasing firms on Tuesday, bringing the plane's total orders up to 730 from 27 customers.
The C919 is the first large passenger aircraft produced in China in accordance with international civil aviation regulations. It completed its maiden flight in May this year.
According to a statement issued by COMAC, the deal made a wholly-owned subsidiary of Agricultural Bank of China, or ABC Financial Leasing, the first to place a second order of 30 jets based on the 45 jets it ordered in 2012.
And the other three purchasers are a leasing subsidiary of China Nuclear E&C Group, Huabao Leasing and AVIC International Leasing, which signed up for 40, 30 and 30 jets, respectively.
"This is the biggest deal since the first trip of the C919, which indicates the confidence and recognition of the market towards the plane," the statement said.
While Boeing and Airbus have long dominated the passenger aircraft market, the Shanghai-based jet manufacturer suggested that the C919 will not compete with them in fully developed and mature markets, as China Daily earlier reported.
"Our marketing team is focusing on three major target markets, which are our home market, Africa and Southeast Asian countries involved in the Belt and Road Initiative," Xu Pei, COMAC's deputy chief of the marketing division, told the newspaper.