Should swimming be compulsory for college students?
chinadaily.com.cn | Updated: 2017-09-21 15:06
Editor's note: As the new semester gets underway, Tsinghua University is reiterating its rule that students are required to pass a swimming test to get a diploma. According to a survey by the university's Physical Education department, almost half of the freshmen cannot swim. Forum readers share their opinions.
seneca (Expat in China)
Compulsion doesn't work well. Why not give Tsinghua students extra points for doing certain sports? And not just sports, arts? They should learn to appreciate the beauty of the written word and drama played onstage.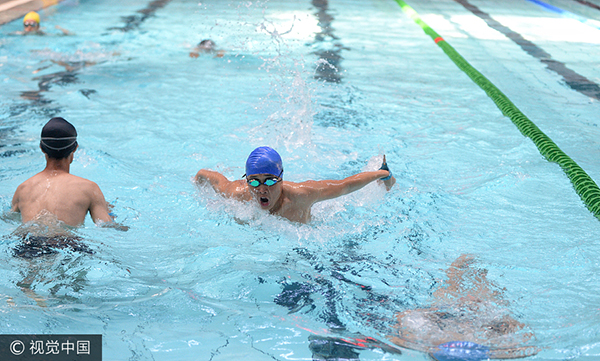 Students undergo a swimming test in Tsinghua University, Sept 17, 2017. Around 445 freshmen applied for the test held at the start of the academic year, with over 90 percent of them passing the exam. Students entering the university this year must be able to swim or be prepared to learn swimming and pass a test or they won't receive their bachelor's degree. The regulation has received a mixed response since its announcement. [Photo/VCG]