Endowed chair keeps spark of wisdom lit
By HONG XIAO in New York | China Daily | Updated: 2017-09-28 07:47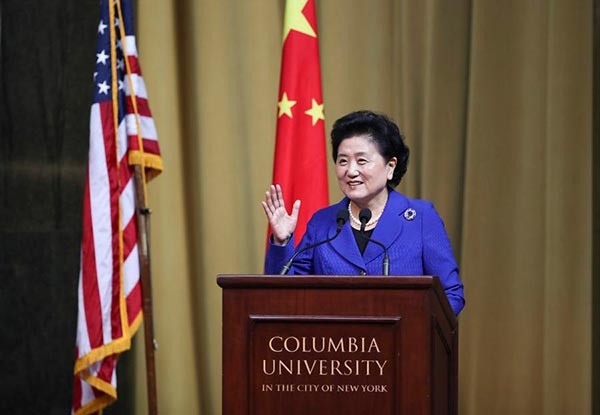 Visiting Vice-Premier Liu Yandong delivers a keynote speech at the opening ceremony of the China-US University Presidents and Think Tank Forum at Columbia University in New York, Sept 26, 2017. [Photo/Agencies]
In her remarks at Columbia University on Tuesday, Vice-Premier Liu Yandong noted a bit of history.
At the university's department of East Asian Studies, there is a teaching chair for special studies in Chinese culture and Han teachings called the Dean Lung Professorship. It was established and funded by Horace Walpole Carpentier in 1901 to commemorate Dean Lung, his illiterate but noble Chinese servant.
Carpentier (1824-1918) was the first mayor of Oakland, California. In 1888, he returned to his hometown of New York City and was elected to the board of trustees of Columbia University.
In California, he hired Dean Lung as a servant, who went with him to New York. When Dean Lung retired, he wanted to use his savings to build a department of Chinese culture and Han studies, hoping to share the culture of his home country.
Carpentier, deeply moved, gave donations to the project in honor of his friend and employee for the endowment of Chinese studies at the university, founding the department of East Asian languages and cultures.
Liu expressed hope that everyone attending would illuminate the road of Sino-US relations by lighting the spark of wisdom.
"I believe with the joint efforts by all of you, Sino-US relations will have a brighter future," she said.