Biggest Serbian book feast opens with focus on German language literature
Xinhua | Updated: 2017-10-23 09:36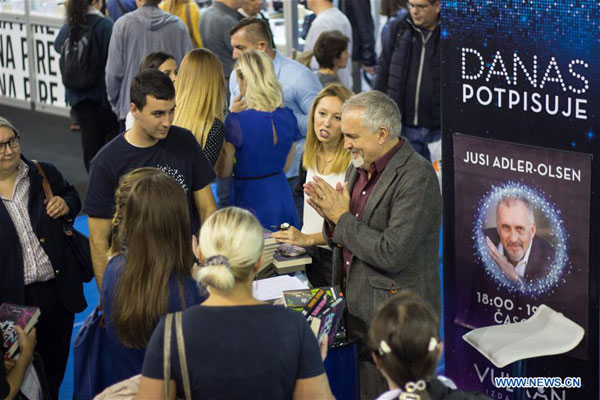 Danish author Jusi Adle Olsen (1st R) introduces his book at the 62nd International Book Fair in Belgrade, Serbia, on Oct 22, 2017. Four German language countries are in focus of the 62nd International Belgrade Book Fair in Serbia which started on Sunday with the slogan "Books hold the key". [Photo/Xinhua]
BELGRADE - Four German language countries are in focus of the 62nd International Belgrade Book Fair in Serbia which started on Sunday with the slogan "Books hold the key".
The event, one of the largest of its kind in southeast Europe, was opened by Serbian and Austrian writers Miro Vuksanovic and Karl-Marcus Gauss who spoke about the role of literature and written word in general for the protection of national languages.
Gauss pointed out that Germany, Switzerland, Liechtenstein and Austria have their peculiarities and traditions, which have contributed to different cultural and historical development.
"For the richness of voices and sounds, contemporary literature in German language has to thank the fact that there is no binding and exemplary standard of several different variants of the standard language. But the differences are not so great that we would not continue to be one language", Gauss said, stressing that this contributes to the exchange in culture and art.
On his part, Vuksanovic said that they can learn from the four guest countries and many other nations on how to protect one's own language and everything created by it.
"This fair is a perfect demonstration on how to defend a language and it is open like a book ready to be read," Vuksanovic said.
Germany, Austria, Switzerland and Lichtenstein will present their contemporary literature with 1,000 books.
Around 500 domestic, regional and international exhibitors participated into the book fair which is scheduled for Oct 22 to 29. Lectures, discussions and other programs will also held during the fair.