China provides educational supplies to 86,000 Syrian refugees in Lebanon
Xinhua | Updated: 2017-10-24 11:20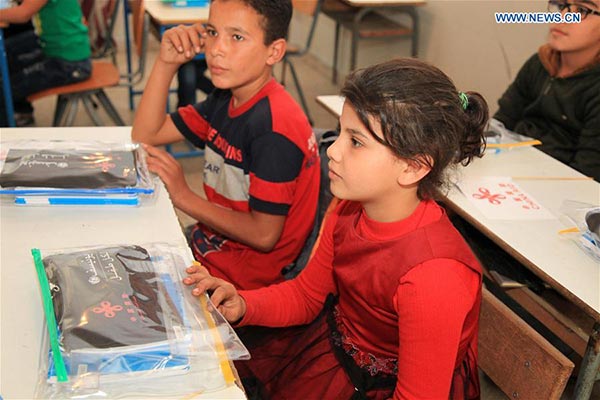 Syrian refugee students receive Chinese-funded educational supplies at a school in Beirut, Lebanon, on Oct 23, 2017. [Photo/Xinhua]
BEIRUT - Chinese-funded educational supplies were distributed on Monday to around 86,000 Syrian refugee students in Lebanon, said the United Nations Children's Fund (UNICEF) in a statement.
The aid was delivered by Chinese Ambassador to Lebanon Wang Kejian, who was joined by Lebanese Education Minister Marwan Hamadeh and UNICEF representative in Jordan Tanya Chapuisat.
The donation was made through Lebanon's Reach all Children with Education campaign (RACE), an ongoing collaborative effort between the Lebanese Ministry of Education and the United Nations.
Through RACE, the Lebanese government is striving to enable all children in Lebanon to attend school regardless of nationality.
Chapuisat hailed China's "generous donation" that reached 86,000 Syrian refugee students in Lebanon this year, according to the statement.
For his part, Hamadeh thanked China for its continuous support to Lebanon.
"We thank China for its ongoing support to Lebanon in many fields since the refugee crisis. It is coming from a brotherly country that loves Syria and Lebanon as well," he said.
Wang said that the Chinese donation, which expressed China's sympathy and support to the Syrian refugees, aimed at helping Lebanon to deal with the refugee crisis.