Canada's Ontario adopts motion designating Nanjing Massacre Commemorative Day
Xinhua | Updated: 2017-10-27 09:13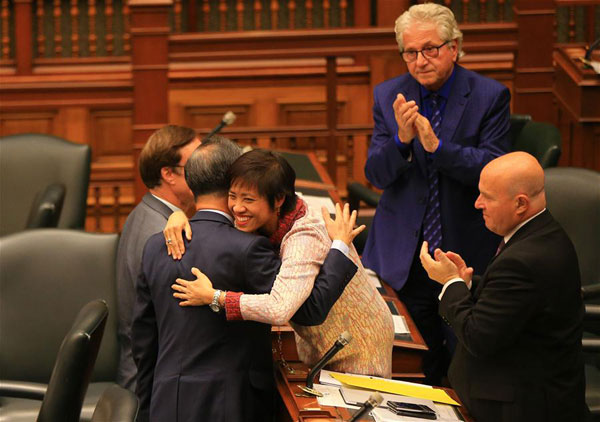 Soo Wong (C), a member of Provincial Parliament of Canada's Ontario, celebrates her motion approved with colleagues at the provincial parliament in Toronto, Canada, on Oct 26, 2017. Canada's Ontario provincial parliament Thursday passed a motion designating Nanjing Massacre Commemorative Day to commemorate the mass killing of 300,000 Chinese by Japanese troops in Nanjing during World War II. [Photo/Xinhua]
TORONTO - The legislature of Canada's east-central province of Ontario Thursday passed a motion recognizing Dec 13th in each year as "Nanjing Massacre Commemorative Day."
The No 66 motion, adopted by the Legislative Assembly of Ontario, was the first of its kind in a western country.
It was introduced by Chinese-Canadian lawmaker Soo Wong in a bid to acknowledge and honor the over 300,000 victims of the Nanjing Massacre, a heinous crime committed by the Japanese militarists during the World War II.
"The passing of this Motion is an important step in affirming Ontario's inclusive values. It recognizes the horrors of World War II in Asia, and shows humanity for victims, survivors, and families affected by the Nanjing Massacre, many of whom live in Ontario," said Wong in a press release Thursday afternoon.
"My motion is very similar to what I introduced last year Bill 79. It's no difference. If passed, the motion will recognize every Dec 13 Nanjing Massacre Commemorative Day in Ontario," Wong said in an earlier interview with Xinhua.
It is important for the residents of Ontario, home to largest Asian community in Canada, to "reflect and educate" themselves about the enduring lessons of the Nanjing Massacre and other World War II atrocities in Asia as many are unfamiliar with this part of history, Wong said.
This year marks the 80th anniversary of the Nanjing Massacre, in which more than 300,000 Chinese lives were taken by Japanese invaders when they occupied Nanjing, then China's capital, from Dec 13, 1937.
The Bill 79 Wong introduced in 2016 also called for the designation of Dec 13 as Nanjing Massacre Commemorative Day in Ontario. The bill passed the second reading last Dec, and will go through a third reading in Dec this year. If passed, Dec 13 will become an official commemorative day in the province.
However, the bill has encountered strong opposition from Tokyo. Japanese lawmakers reportedly have sent a letter to the Ontario government against the bill and lobbied against its third reading. Almost 100,000 signatures have been collected in Ontario Asian communities in petition to pass Wong's bill so far.
Wong said she had received a postcard from Japan with no signature on it, which gives an alternative number of deaths killed in Nanjing during the World War II.
"We know the history, we also know the fact," Wong said.