Nobel laureate ICAN says atomic bomb survivor to jointly accept Prize
Xinhua | Updated: 2017-10-27 09:55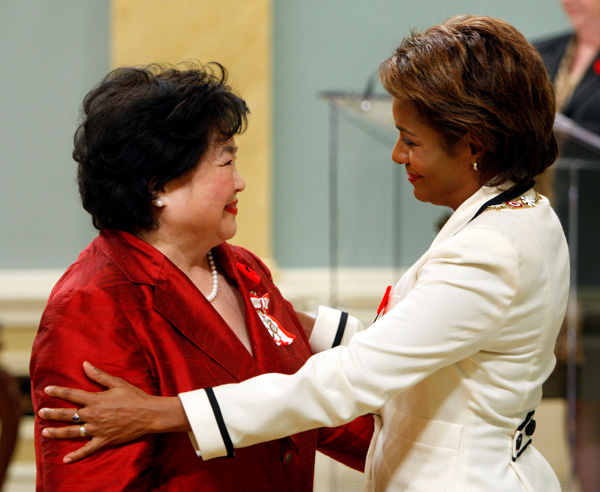 Setsuko Thurlow (L), a survivor of the Hiroshima atomic bombing, is congratulated after being awarded the rank of Member in the Order of Canada by Governor General Michaelle Jean at Rideau Hall in Ottawa, October 26, 2007. The award recognizes outstanding achievement and service in various fields of human endeavour and is the country's highest honor for lifetime achievement. [Photo/Agencies]
GENEVA - The 2017 Nobel Peace Prize winner, the International Campaign to Abolish Nuclear Weapons (ICAN), said Thursday that an 85-year-old survivor of the 1945 atomic bombing of Hiroshima will jointly accept this year's prize.
Setsuko Thurlow, who was 13 years old when the United States dropped the bomb on her city in 1945, will receive the award together with ICAN's executive director Beatrice Fihn at the Nobel Peace Prize ceremony in Oslo on Dec.10.
Thurlow has been a leading figure in Geneva-based ICAN since its launch in 2007.
ICAN said she played a pivotal role in the UN negotiations that led to the adoption of the treaty outlawing nuclear weapons in July.
"For more than seven decades, she has campaigned against the bomb," said ICAN.
The pro-disarmament group said that two other survivors of the atomic bombings will also attend the prize ceremony, as will survivors of nuclear testing.
The UN Treaty on the Prohibition of Nuclear Weapons was opened for signature on Sept. 20, and has 53 signatories so far. Once 50 nations have ratified or acceded to the treaty, it enters into force.
To accelerate Japan's surrender in World War II, the U.S. forces dropped two atomic bombs on Hiroshima and Nagasaki respectively on Aug. 6 and Aug. 9, 1945. Japan surrendered to the Allied Forces on Aug. 15, 1945, bringing an end to WWII.