China leads in shipbuilding
By Ren Xiaojin | China Daily | Updated: 2017-12-12 08:17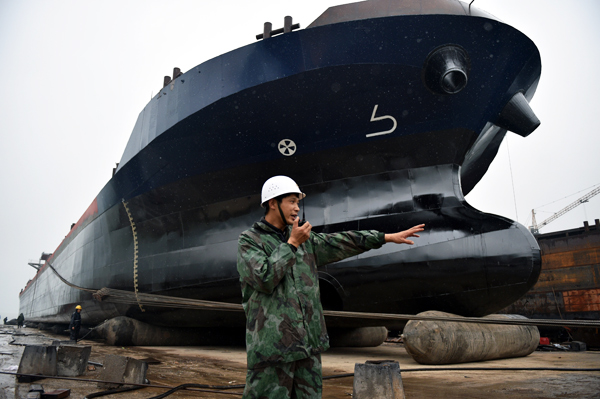 Orders for China's rebounding shipbuilding industry reached the top place in the world in the past 11 months, surpassing its counterpart South Korea, according to an international industrial analysis agency.
According to the data released by British shipbuilding and marine analysis agency Clarkson Research Services on Friday, from January to November, China's shipbuilding order volume totaled 7.13 million compensated gross tons from 324 vessels, followed by South Korea, which has received 5.74 CGT.
It is the first time in the past seven years China has exceeded South Korea in shipbuilding orders.
The data also show that China's shipbuilding industry secured 36.3 percent of the global market, 7 percentage points more than South Korea, which accounts for 29.4 percent of global orders.
Chinese shipyards have been performing well this year.
This August, French group CMACGM SA ordered nine 22,000 twenty-foot equivalent units container vessels from Shanghai Waigaoqiao Shipbuilding Co and Hudong Zhonghua Shipbuilding Co.
In October, China State Shipbuilding Corp, China Investment Corp and Carnival Corp, the world's biggest cruise operator, signed an agreement to invest total 25.5 billion yuan ($3.85 billion) to build a super luxury cruise ship. It was also the first order of this kind Chinese shipbuilding companies had ever received.
Dong Liwan, a shipbuilding industry researcher at Shanghai Maritime University, said with the orders for high-value-added ships continuing to go to Chinese shipyards, their South Korean competitors will definitely feel the pinch.
China's shipbuilding business is also moving from quantity to quality, as the industry is becoming more intelligent and environmentally friendly.
"China's shipbuilding industry is realizing the transformation with its hardworking spirit to achieve technical breakthrough and innovation," said Sun Licheng, president of China Classification Society.
"While maintaining growth, it is realizing production mode transformation, structural adjustment and transformation, and upgrading, and reinforcing China's shipbuilding status in the world."
Sun said the goal is to become a strong shipbuilding country by 2020, and to accelerate the development of advanced intelligent manufacturing and industrial equipment capability.
At the recent All China Maritime Conference and Exhibition, China State Shipbuilding Corporation has delivered the world's first smart ship, Great Intelligence, with a loading capacity of 38,800 metric tons.
Meanwhile, COSCO Dalian shipyard has signed orders with Thordon Bearings, a marine industry solution provider for its water lubricated propeller shaft bearings, which can use seawater as the lubrication medium instead of oil that could cause pollution.
Alex Li, managing director of CY Engineering Co Ltd, Thordon Bearings' partner in China, said that the latest order is a significant sign showing Chinese shipbuilders' commitment to reducing industry-borne emissions and pollutants.