Students get connected with Shanghai
By ZHANG RUINAN in New York | China Daily USA | Updated: 2017-12-13 16:37
Shanghai Overseas Returned Scholars Association (SORSA) launched its first overseas liaison office in New York on Dec 12, providing overseas scholars and students with a bridge to Shanghai's economic and cultural development.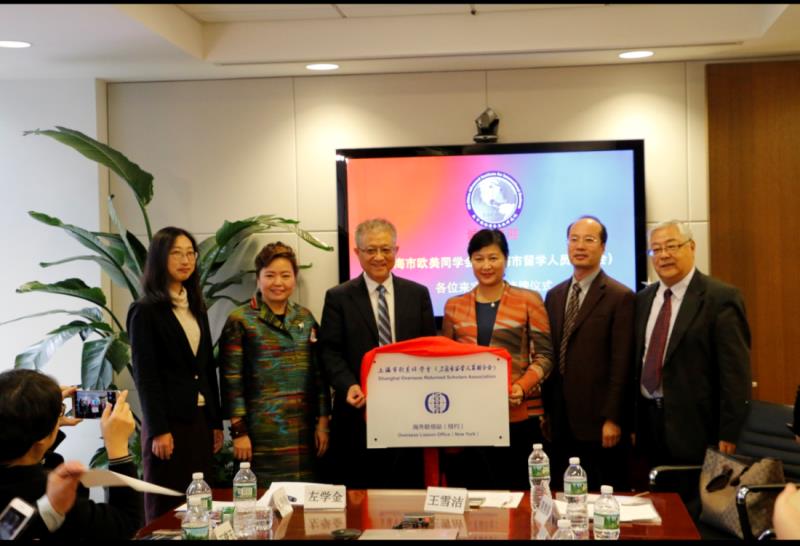 "The establishment of SORSA's New York office meets the needs of Shanghai's development in the new era," said Zuo Xuejin, vice-president of the association, at the launch ceremony. "It will further improve our connections with overseas Chinese associations and student associations in New York."
And, Zuo added, "it will play an important role in attracting high-quality overseas talents to return to the homeland to launch their careers and contribute to the development of our country."
Zuo said on the 100th anniversary of SORSA Chinese President Xi Jinping said the association should make an effort to become a new force for people-to-people diplomacy.
"We used to invite overseas experts and friends to China to exchange and communicate, but now we are going out to develop deeper connections with overseas associations to accomplish the goal," Zuo said.
The association has commissioned the US-China Advanced Institute for International Business to help its listing in New York based on an agreement they signed in July in Shanghai.
"The launching of SORSA's New York office reflects that the new round of Shanghai's economic development attaches great importance to the participation of overseas talents," said Xia Shanchen, president of the US-China Advanced Institute for International Business.
"It will become the nexus and bridge for exchanges, communications and collaborations between Shanghai's culture and economy and overseas students, as well as returnees," Xia said.
Consul Wang Wenhua, who is in charge of educational affairs at the Chinese consulate general in New York, said, "According to a report conducted by the Institute of International Education last year, China was the largest sender of international students to the US, so it's very important to better serve these overseas students and returnees and connect them with China."
Founded in 1913 on the initiative of returned scholars from overseas with expertise in a wide range of disciplines and professions, the non-government organization has connected with more than 130 overseas Chinese associations and overseas student associations in 26 countries.