'Bomb cyclone' snowstorm paralyzes US East Coast
By Ai Heping in New York | China Daily USA | Updated: 2018-01-05 13:55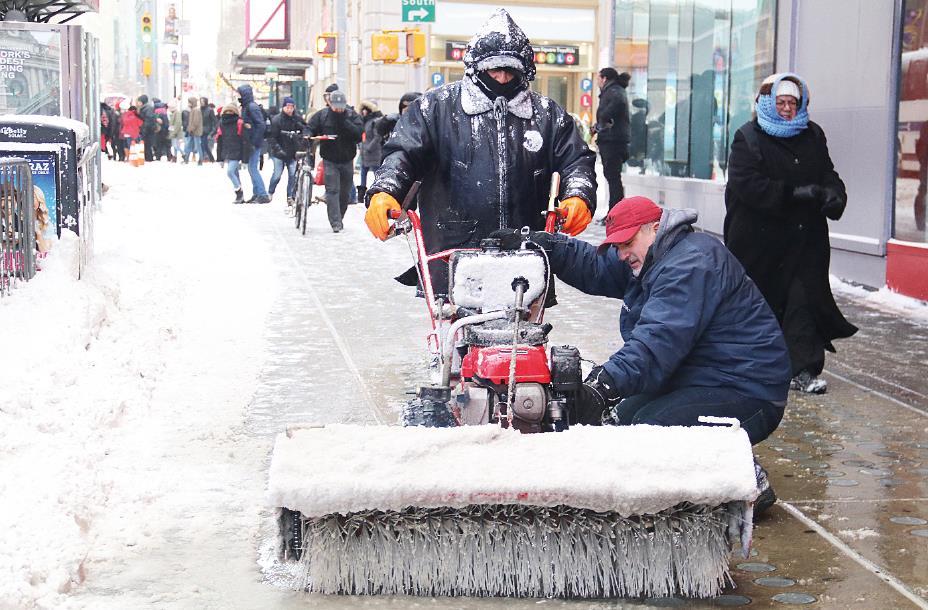 A massive winter storm paralyzed much of the US East Coast on Thursday, dumping as much as 18 inches of snow from the Carolinas to Maine, causing flooding in streets of Boston, forcing the cancelation of more than 4,000 flights and closing businesses, offices and schools.
Forecasters expected the storm - which some meteorologists classified as a "bomb cyclone" for its sharp drop in atmospheric pressure - would be followed immediately by a blast of cold air that could break records in more than two dozen cities and bring wind chills as low as minus 40 this weekend.
Officials said that more than 100,000 customers lost power in the storm that hit many areas with heavy winds.
Airlines canceled 4,000 flights on Thursday and hundreds more on Friday, according to FlightAware.com, a tracking service. About 27,000 flights were scheduled Thursday to, from or within the US.
The storm shut down major airports until early Thursday evening, including John F. Kennedy International Airport and LaGuardia Airport in New York and Logan International Airport in Boston. Baltimore-Washington International Airport and Philadelphia International Airport remained open. Newark Liberty International Airport had one runway open, but flights couldn't land due to strong crosswinds.
Passenger train operator Amtrak was running reduced service in the Northeast, while mass-transit systems in major metropolitan areas, including New York and Boston, remained open.
The New York City area was among the hardest hit with up to 8 inches of snow in Manhattan and 15 inches on eastern Long Island. Wind gusts topped 40 mph in Manhattan and neared 60 mph on Long Island.
People struggled against the wind gusts and swirling snow as drifts piled up on corners. But the storm didn't stop people from wandering in Times Square and taking selfies as nearby plows and even a bulldozer sought to clear the area.
Drivers crawled on roads, some littered with cars that had gotten stuck or had pulled over. Plows cleared roads as best they could, but wind gusts covered them again.
By Thursday afternoon, the snow had stopped in the city, but Mayor Bill de Blasio said it could feel like minus 20 degrees on Friday and Saturday with the wind chill. "This is a serious, serious storm," he said at a news conference. "We expect tough conditions for days to come, particularly in terms of cold."
New York Governor Andrew Cuomo declared a state of emergency for the southern part of the state. New Jersey Governor Chris Christie declared a state of emergency for several counties.
The high winds caused coastal flooding from Massachusetts to Maine, stranding people in homes and cars. In Massachusetts, Boston Harbor overflowed with chunks of ice and the rising tide pushed some boats up to street level.
The National Weather Service said it was reviewing the water level in Boston, believing it topped levels from the blizzard of 1978.
The massive storm began two days ago in the Gulf of Mexico, first hitting the Florida Panhandle with snow in Tallahassee on Wednesday, that city's first snow in nearly three decades. It then barreled up the coast and hit southern cities such as Savannah, Georgia, and Charleston, South Carolina, with snow and ice.
AP and Reuters contributed to this story.
Related Stories