New film production base to be established in city
By Shi Jing in Shanghai | China Daily | Updated: 2018-01-06 11:11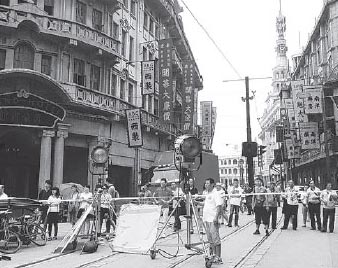 The Shanghai government is looking to build on the city's reputation as the birthplace of China's film industry by establishing a large high-tech film production base in Songjiang district within the next few years.
This measure was one of the 50 guidelines released by the municipal government on Dec 14 aimed at further developing the city's cultural and innovative industry.
According to Yu Xiufen, director of the Shanghai Municipal Administration of Culture, Radio, Film and TV, the Songjiang base will consolidate the city's abundant film resources that are currently scattered across districts like Jing'an, Xuhui and Putuo.
Public information shows that there are more than 5,000 film and TV program production companies registered in Songjiang. The total output of the film industry in Songjiang reached 25.7 billion yuan ($3.9 billion) in the past 11 months of last year.
"For all the cities in the world where the film industry prospers, there are always large-scale production bases featuring a large number of professional studios. These bases are usually complemented by special effects studios. Professional teams with expertise in this industry are willing to come together in such bases," she said.
"There are also teams responsible for the daily management of the bases, providing first-rate services so that film crews will be willing to shoot there. Post production, distribution and financing companies can all be found in such bases. This is an example that Shanghai can follow," she added.
Authorities will also look to set up three other areas that would help to nurture talent, attract investment and enhance the site recce process in filmmaking.
In terms of talent training, Yu said that companies should work closely with institutions such as the Shanghai Film Art Academy, Shanghai Vancouver Film School and Shanghai Institute of Visual Arts to seek innovative training methods.
Yu emphasized on the importance of setting up a complete industry chain in Shanghai covering production, distribution, finance and other related areas. In addition, local tourism administrators should turn existing film production bases into tourist destinations.