Collision may have left small oil spill
By Zheng Jinran | China Daily | Updated: 2018-01-12 07:26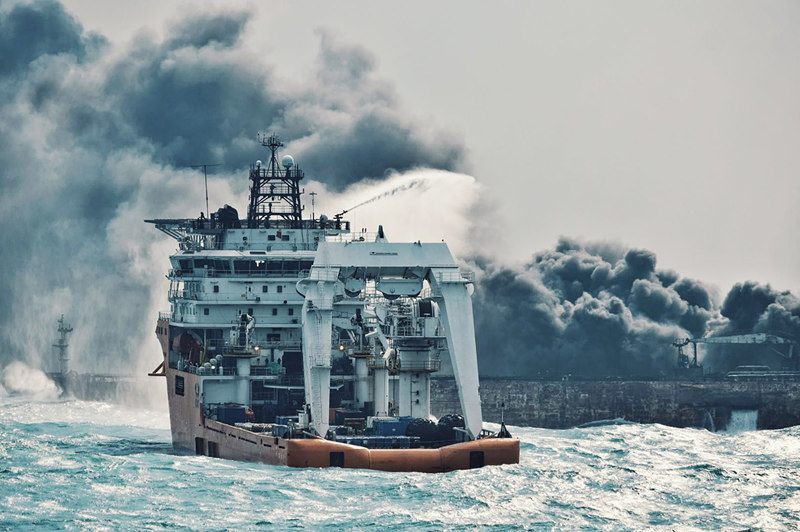 A possible small oil spill has been discovered near where two ships collided in the East China Sea five days ago, as the blaze on an oil tanker continued to rage.
The Panama-registered tanker Sanchi, carrying 136,000 metric tons of highly flammable condensate oil, or natural gasoline, collided with a Hong Kong-registered bulk freighter around 8 pm on Saturday about 160 nautical miles east of Shanghai.
It has drifted southeast since the collision, and was about 240 nautical miles from the mouth of the Yangtze River as of 6 am on Thursday, according to the State Oceanic Administration.
"Based on the ongoing hydrology and meteorological conditions, the collision and suspected oil leak will not affect the coastal water and environment for now," the administration said. "We will closely monitor the situation and assess the potential impact."
The small suspected oil spill was discovered nearby on Wednesday.
The Sanchi has been in flames since the collision, and its 31 sailors are still missing. Rescue and cleanup teams have encountered toxic fumes from the burning ship, the administration said.
The 21 Chinese crew members of the bulk freighter were all rescued, and 13 rescue vessels are searching for the missing sailors.
Yao Ziwei, a researcher from the monitoring center of the administration, said the condensate oil could still pose a threat to the maritime atmosphere, as it may contain a relatively high level of sulfide.
The oil from the tanker, different from crude oil, evaporates quickly upon hitting the water, leaving little residue on the surface. But it is highly flammable and generates toxic gas when it burns, said Zhao Ruxiang, a senior engineer from an oil spill response technological center in Yantai, Shandong province.
A simulation showed less than 1 percent of the oil content would remain on the surface of the water five hours after a condensate oil spill, he said.
On Thursday, Foreign Ministry spokesman Lu Kang refuted claims that China did not help in searching for the missing sailors, who are mostly Iranian. He said the nation has spared no effort, while also keeping in touch with the Iranian embassy.
"Chinese rescuers have risked their lives to get close to the tanker multiple times to conduct searches and to try to extinguish the fire," he said.
zhengjinran@chinadaily.com.cn