Shenzhen art troupe unveils 'Happy Chinese New Year' in Chile
Chinaculture.org | Updated: 2018-01-19 10:21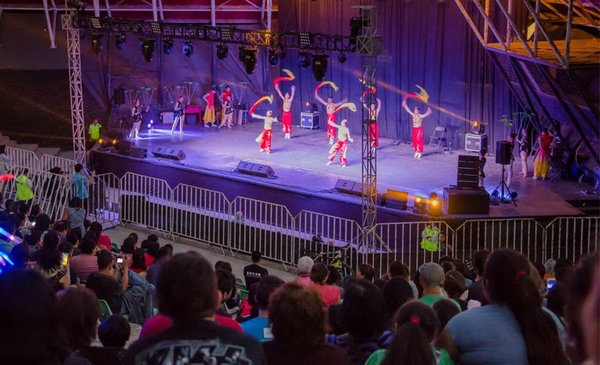 On the evening of Jan 5, Shenzhen art troupe held its first show in the open-air theater of Pudahuel, a small town in Chile's capital Santiago, launching the celebrations of Chinese Lunar New Year under the theme of "Happy Chinese New Year" in the country.
The show captivated an audience of 2,000 with music, dance, and acrobatics, showcasing the rich cultural heritage of Shenzhen, a city in China's Guangdong province.
The show was a part of the 25th edition of Santiago a Mil, a major arts festival in Latin America, which kicked off on Wednesday and runs through Jan 21. The festival also holds theater and concerts. Shenzhen art troupe participated in this festival for the first time in 2014 and left a deep impression on the Chilean audience. The organizing committee of the festival invited the troupe to pay another visit to Chile as 2018 marks the 25th anniversary of Santiago a Mil.
The troupe will tour in five other towns in the Santiago Metropolitan Region, with more than 10,000 people expected to enjoy their performances.
The 2018 "Happy Chinese New Year" celebrations in Chile also incorporates a cultural week, temple fairs, and other cultural activities.
Happy Chinese New Year is a worldwide activity for celebrating the Chinese Lunar New Year, hosted by China's Ministry of Culture and other Chinese authorities since 2009. It seeks to provide a global platform that is joyful, harmonious and accessible to all, to encourage people across the world to celebrate the Chinese Lunar New Year, experience the profound yet interesting Chinese culture and understand the huge achievements China has made. This year, over 2,100 cultural activities will be held in over 400 cities across more than 140 countries and regions worldwide.